Here I am trying to address the Osprey Tropos vs Nebula debate in order to provide a better overview of both the backpacks. If you're confused to pick one, then here's my quick advice.
If comfort is your first and foremost priority then go for Tropos, but if you're a fan of durability (just like me), then you shouldn't ignore Nebula.
Osprey is one of the leading companies in manufacturing travelling hydration backpacks globally. It was founded in 1974 and now became a fusion hub for various and innovative products.
It takes special care in the issue of a warming environment. Their vision is to make all the products with recycled materials and non-toxic dyes. In this increasing trend and demand for backpacks and other bags, Osprey succeeded to earn a high place in this global backpack industry.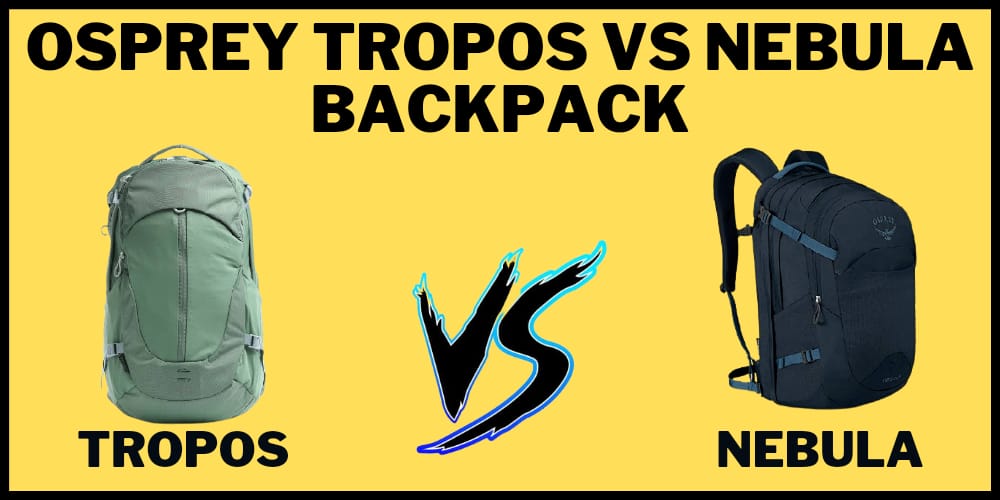 The most impressive feature which makes Osprey unique from others is that it includes PFC- free DWR in all the collections. Sustainability is their prime mantra, and they are planning to become the rising brand in sustainability.
Adventure enthusiasts and people who love to travel around, for them, this brand is perfect. Products of Osprey are always the best for the people who constantly travel and move around because they provide ecological backpacks.
Osprey Tropos and Osprey Nebula both are the best technical backpacks you can have. Its durability and its organizing pocket feature make it distinctive from other bags. Both are designed to fit into your daily activities and help you to simplify the organizing process.
Osprey Tropos vs Nebula: Quick Comparison Chart
| | | |
| --- | --- | --- |
| Features | Osprey Tropos Backpack | Osprey Nebula Backpack |
| Capacity | 34 L | 34L |
| Laptop sleeves | Separate sleeves for Laptop and tablet for better access | TSA airport approved padded sleeve |
| Frontal panel | Front stretch mesh pocket for keeping small items | The frontal panel consists of an organization pocket and a key clip |
| Kickstand | It has a kickstand feature which | It does not have a kickstand feature. |
| AirSpeed Back Panel | Have an AirSpeed Backpanel for superior ventilation | It does not have an AirSpeed Back Panel for ventilation |
| Laptop sleeve space | It fits up to 17inches of Laptop | It fits up to 15 inches of Laptop |
While Osprey Tropos focuses on the product's comfort, Osprey Nebula focuses on the durability of the backpack. The space for the Laptop sleeve is quite different as Tropos offers a 17-inch length, and on the other hand, Nebula provides 15 inches of room for the Laptop. The kickstand feature of Tropos makes it distinctive from Nebula.
Osprey Tropos Review with Pros, Cons & Verdict
Osprey Tropos is one of the best laptop backpacks in the market. It is a all-rounder and versatile product, and it can be used on various situations as per your convenience as well.
It gives comfort to the user while they travel around without even worrying about the bag. This backpack range is designed in such a way and committed that it has a great fit and functionality features that can win your heart.
Key Highlighted Features
Product Description
The Osprey Tropos backpack earned its attention for its technical pack of the brand. It provides excellent ventilation due to its Air Speed suspended mesh back panel. Its laptop pocket offers faster access to the devices and also protects the device.
There are two pocket sleeves included for a laptop and a tablet. The laptop compartment is great to use, as you don't have to dig from other items. In case you drop the bag on the floor, don't worry, the Laptop is safe.
The backpack has dual stretch-mesh bottle compartments and a space for small light attachments for better observation while you trek at night. It also has a heat-encased scratch-free section.
Osprey Nebula Review with Pros, Cons & Verdict
Osprey Nebula backpacks are known for its durability and longevity. It comes with TSA laptop sleeve (airport approved), which makes it super travel friendly and very easy to carry.
Key Highlighted Features
Product Description
The Nebula Backpack provides the best durable and elite quality fabrics in a very comfortable package for daily activities. It also has some travel-friendly features which can charm you away. Its internal magazine/ document sleeve and organization pocket enables you to keep the items properly.
It weighs up to 1.98 pounds which is light to carry around. You can even fit in a 15 inches laptop easily and can access it whenever you want. It was even ranked high in the list of laptop backpacks recently.
It has two main compartments that are quite large and can store many items like laptops, clothes, and much more in an organized manner. So there are no problems with messing with all the things. You can pack three days of clothes as well and with ease.
Final Take
All in all, according to me, Nebula is the best choice. Its feature, which includes padded sleeves, is much better than Tropos, and it is lighter to carry around.
Osprey Tropos vs Nebula: In-depth Comparison
I have been using a few Osprey bags for a very long time. They are great in quality and are durable. No matter where you go and how much you travel, the requirement of a technical bag is a must.
That is why I am going to share some in-depth insights regarding this Osprey Tropos vs Nebula Backpack debate. So that you can understand and choose your ideal backpack and have a great experience.
Weight
Generally, the weight of the product does not have much effect on travelling. But still, Osprey Tropos wins the race with Nebula. This is because Tropos weighs less than Nebula, which is why it is a lightweight day pack.
Comfortability
For hikers to commuters, comfortability is very important. It is because they need to carry them back for a very long period. If it is not comfortable enough, the user won't be able to carry it.
The backpacks are padded equally and have a feature that helps attach the bag with your back easily without giving pain. Both of them are made with a cooling technology known as AirSpeed.
This is created so that it provides ventilation in the back of the backpack so that the user can comfortably carry the bag without any sweat during warm weather.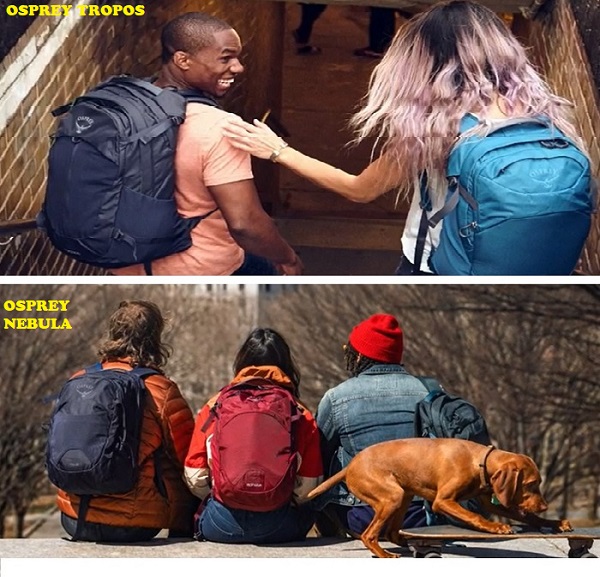 Adjustability
In the Osprey Tropos backpack, there are adjustable straps but not any ordinary ones. These straps you won't find in everyday bags.
This product has almost ten adjustable straps on it, which makes the backpack highly tailored. Four of them are compression straps that help hold all the things in your bag close and compact. Lastly, a sternum strap so that you can adjust well.
On the other hand, Osprey Nebula does not have any special straps. It features adjustable shoulder straps and also a removable waist strap which gives the user comfort. And therefore it is best for everyday use.
Storage and Capacity
If you are a student, Tropos is perfect for you. There is entirely a different place inside the main compartment. You can keep the books and the note copies very quickly.
Not only that, this backpack has a lot of cases like laptop sleeves and organization pockets to keep your belongings in an organized way, so you don't mess up while you look for something.
Both of the backpacks offer the same storage capacity, that is, 34 L. This means you can carry a lot of things. Be it a camping experience or a short trip. You can squeeze in a lot of items.
Design
Usually, everyday backpacks do not have much of a difference. The same goes for Osprey Nebula and Osprey Tropos. Though both of them offer the same capacity, Osprey Nebula(18.9 inches tall)is relatively smaller than Tropos(20.8 inches tall).
The backpack is made up of 420D nylon packcloth and 210D nylon ripstop. It means both of them are not entirely waterproof but are water-resistant. It is also suitable for everyday activities, but Nebula is ideal because of its compact size. Tropos is a better option for hiking and trekking for its cooling technology.
Compartment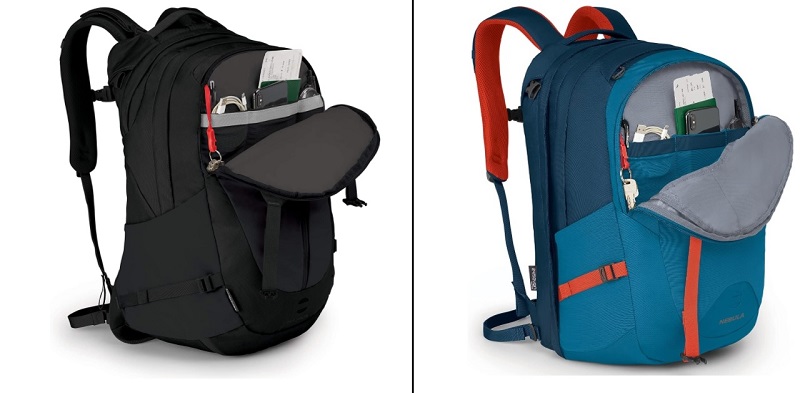 Both of the backpacks contain more than five compartments, including organization pockets, laptop sleeves, and so much more. Compared to Nebula, Tropos offers a lot of compartments for storage. There is a pocket for small items like phones or sunglasses, and some space is divided for small business cards and other personal items.
The laptop compartment is padded for both of the products. Nebula has airport approved padded Laptop and tablet sleeves for better and easy security checks during air travel.
Special Features
The only feature that makes Tropos a stand out product is the kickstand feature. A built-in kickstand allows the backpack to sit up on its own.
During your class or hiking on a rocky mountain, the pack can sit upright very quickly due to its metal framework around the structure. This also makes the whole packing process much faster and easier.
Contrarily, Nebula's best and unique feature is its TSA airport approved laptop sleeve, which you can unzip and lay flat during a security check without even taking out the Laptop or any devices repeatedly.
Pricing
Price is another important factor for buying a backpack. You will love both of the products because of their affordable pricing.
The price of Osprey Tropos is under $150 most of the times, which is worthy because of its features offered to the users. From maximum comfort to sleek design, Tropos is an excellent choice. It comes in various colors and is also unisex, which means both men and women can use it and enjoy its features.
The price of the Osprey Nebula is a little cheaper than that of Tropos. With its super impressive TSA airport approved feature, it becomes super affordable and a perfect choice for daily commuters.
Ease of Use
If you talk about the ease of use, it depends on what type of activities you prefer. If you are a daily commuter, student or biker, Osprey Nebula can be a worthy choice. It is because Nebula offers not only comfortability but is durable as well. It can fit easily under the seat of an aeroplane while you travel.
And, if you are an adventurer, then Tropos can be the perfect backpack for you. Its multiple compartment feature and the kickstand feature makes it the best bag for travelling. These features truly make this product one of a kind.
You can easily use it for 1-2 days straight without even worrying about messing up the items like clothes, personal belongings during a trek.
Final Thoughts
In the end, the choice is entirely yours, and you need to understand there is no wrong decision between these two. Both have unique features which overpower one another.
I hope this article on "Osprey Tropos vs Nebula" helps guide you to your perfect travelling buddy and gives you an extraordinary experience in your lifetime. Osprey believes that everyone should benefit from outdoor recreation.