Pontoon boats are an interesting choice for mid-summer fun and thriller parties. The pontoon boats stand strong on a specialized airtight device called a hollow pontoon, providing balance and support to a structure. They depend on buoyant forces to float on the water.
The pontoon is also unsinkable, which makes it quite interesting and safe for family leisure. But do you know how fast does a pontoon boat go?
Well, the speed of a pontoon boat depends on the hp or horsepower and engine capacity. For example, an 150 hp pontoon can easily touch 35-40 miles per hour.
The speed of a pontoon boat is also affected by various factors like size, weight, length, and engine capacity.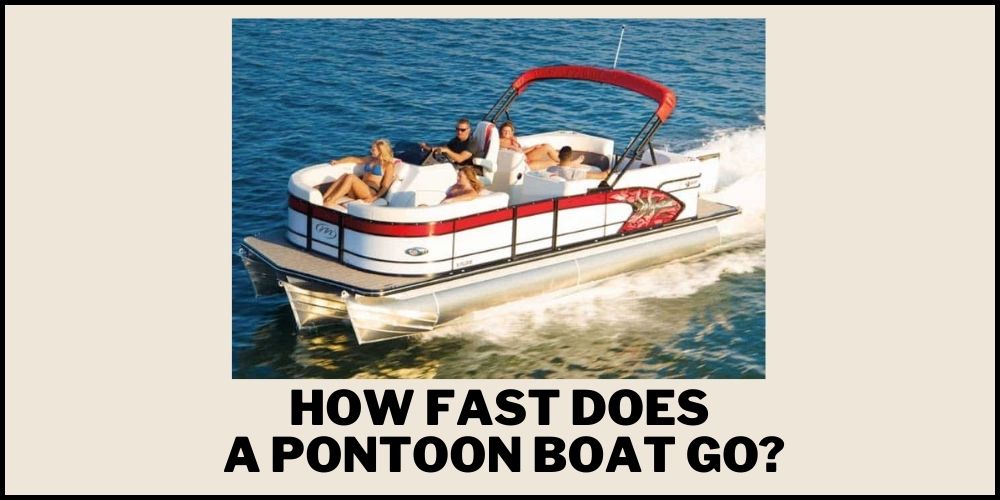 The modern-day pontoon boats have Bluetooth adaptable music stereos and can easily provide 15-20 people adding to their versatile nature. One can also customize pontoon boats based on their needs and add-ons like sun decks, private cabinets, bars, and comfortable living space.
Moreover, the speed of a pontoon boat depends on the hp or horsepower and engine capacity. For example, an 150 hp pontoon can easily touch 35-40 miles per hour. The speed of a pontoon boat is also affected by various factors like size, weight, length, and engine capacity.
We have researched different types of pontoon boats, and today, we will discover the speed of a pontoon boat and determine the factors affecting its pace.
Determining Factors of How Fast Does a Pontoon Boat Go:
As mentioned above, no single factor can determine or have a major impact on how fast a pontoon boat can go. Hence we have listed down some of the key factors that have a major impact on the speed of a pontoon boat.
Size of the Engine:
Different pontoon boats have different sizes of engines; hence you have to talk to your dealer to select the best engine for your pontoon boat.
Is speed the only thing you are concerned about? If yes, your selection must also go with a higher hp motor to ensure that you get the speed you deserve.
You can experience 40 miles per hour on a 150 hp boat, while a 400 hp motor gives you a thrilling riding experience touching mid-50's. The size of the engine also depends on various factors like dry weight or the weight of the boat without any passengers on board, other boat components, condition of the water, and size of the boat.
At last, you have to also keep a close eye on the placement of the engine as it impacts the speed of the pontoon.
Number of Tubes Beneath The Deck:
Generally, most boaters who like to cruise with ease on water love to go with two tubes under the deck, while people who need more excitement and thrill opt for three tubes underneath the deck.
New pontoon boats that are meant for speed have three or more tubes underneath the deck. There are also a few barriers or complications which three-tube pontoon boat owners have to deal with when they opt for speedy boats.
For example, three-tube pontoon boats demand a larger trailer which makes them difficult to handle.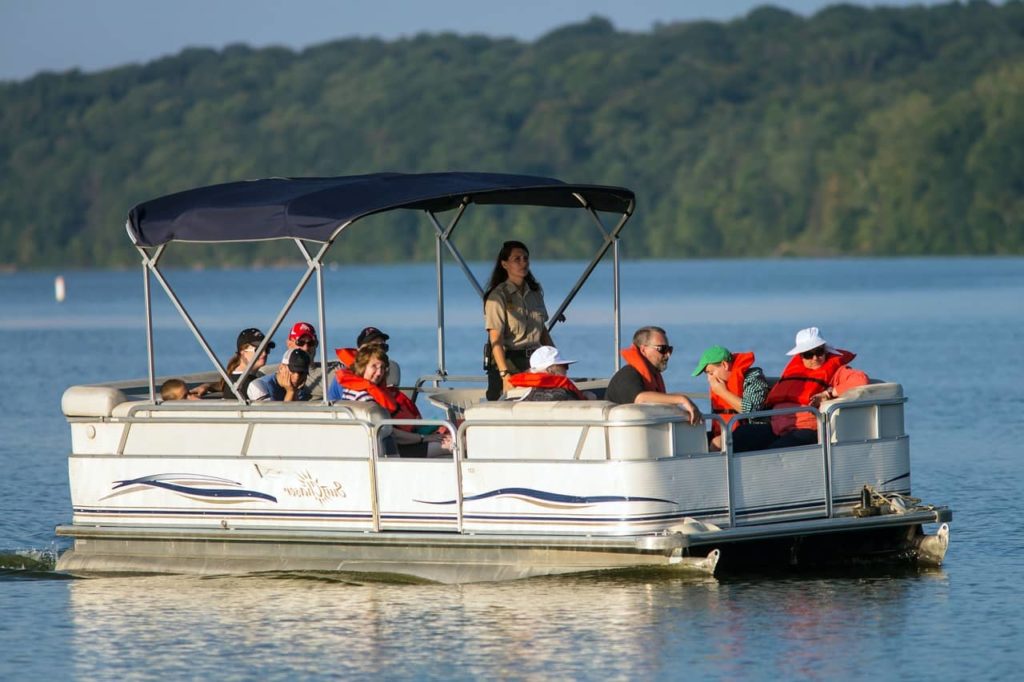 All in all, three-tube pontoon boats offer stability and extra pace to boat owners when compared to conventional two-tube pontoon boats.
Prop of the Boat:
If you love to get engaged in thrilling activities like surfing or carrying skiers on the go, you will have to pay attention to the props. There are various props available in the market, with every prop having its own merits and demerits.
The two common types of props available in the market are 3 and 4 blade props. On the other hand, stainless steel and Aluminum are quite the preferred materials for manufacturing probs. It is essential to look at the pitch of the prop as it affects the speed of the pontoon.
Load or Weight on the Pontoon Boat:
Load on the pontoon boat and the speed of the pontoon is inversely proportional to each other. In simple words, every 1000 pound extra load reduces 15% of the total speed of the pontoon.
If you want to ride at higher speeds, it is important to reduce extra weight in the form of furniture, equipment, add-ons and, of course, reduce the number of people on the boat.
Dirty Pontoons:
According to the latest research reports, dirt in the form of algae, crud, and barnacles account for reducing pontoon speed by six mph. The numbers are only for the minimum level of dirt, and speed reduction might differ for pontoons in the water for a longer period.
If you love to park your pontoon in water for a long time, then it is the right time to change the location or periodically wash and wax the pontoon to maintain average or top speed. It is your responsibility to keep your propellers and hull clean to enhance the pontoon boat's life.
How The Bimini Affects Speed?
The boat's bimini can also have a significant impact on the pace. Bimini or also known as the sunshade of the boat, creates a bimini resistance or wind resistance.
Although it impacts your speed only on a windy day, it is not a factor you should worry about. Normally, bimini resistance has a small or negligible effect on your boat's speed.
How Fast Your Pontoon Boat Needs to Go?
Undoubtedly, all of us would love to go with higher speeds, but it is not always right because everyone has different tastes; hence it is vital to go with the one that suits your needs.
We have listed a few activities and the optimum speed required to accomplish them so take a look to get the right idea about your taste.
| | |
| --- | --- |
| Activities | Speed |
| Tubing with kids up to 10 years old | 10-20 miles per hour (25-30 kilometers/ hour) |
| Wakeboarding | Wakeboarding demands less speed when compared to any other water sports activity. Therefore 15 -18 mph or 30 kmph is sufficient for wakeboarding. |
| Bare foot | Measure your weight in pounds, divide it by 10 and add 20. For example, your weight is 100 pounds, you need 10 mph and add 20 which means you need 30 mph. |
| Tubing with infants | If your kids are 4 to 6 years old then a 11 mph pontoon is all that you need. |
| Water Skiing with two or skiis | 15 – 25 mph or 25-45 kmph is normal speed to enjoy the water sport. |
| Knee boarding | 13 to 18 mph or 20 to 28 kmph |
| Slalom Skiing | 15 mph or 25 kmph for hauling. |
| Tubing with adults | 21 mph or 45 kmph is best for tubing with adult or teens |
If you are an alien to the world of pontoon boating, then it is better to go with an optimum speed pontoon around 22 mph or 36 kmph, which is appropriate for a better experience.
Speed Chart: How Fast Does a Pontoon Boat Go?
Well, speed can be a deciding factor when you are confused about whether to buy or avoid a pontoon boat. The majority of commercial pontoon boats have an average speed of 20 to 25 miles per hour, and the speed can also depend on various factors like pricing, engine, model, and brand.
We have mentioned a speed chart based on different pontoons from different brands for your reference.
| | | | |
| --- | --- | --- | --- |
| Hp or Horsepower | MPH | Length | Model |
| 400 hp | 65 mph | 31 feet | PlayCraft X-treme 3110 |
| 300 hp | 62 mph | 26 feet | Manitou 25 X-Plode XT SHP |
| 300 hp | 50 mph | 25 feet | Berkshire Sport RFX 9 |
| 600 hp | 52 mph | 29 feet | Premium Pontoons 290 |
| 250 hp | 51 mph | 28 feet | Bennington QR27 |
| 600 hp | 57 mph | 27 feet | South Bay Super Sport 925 |
| 350 hp | 63 mph | 27 feet | Harris Crowne SL 250 |
| 70 hp | 21 mph | 22 feet | Sun Tracker |
| 90 hp | 18 mph | 24 feet | Sweet water |
| 115 hp | 21 mph | 24 feet | Sweet water |
| 23 hp | 23 mph | 20 feet | StarCraft |
| 75 hp | 24 mph | 18 feet | Party Barge |
| 90 hp | 28 mph | 26 feet | Crest III |
| 60 hp | 17 mph | 18 feet | Bass Buggy |
| 60 hp | 18 mph | 20 feet | Bass Buggy |
Source: PONTOONOPEDIA
If you are still confused about how much speed you will need, you will have to frame it according to your needs. For example, some people love speed like F1 cars for skiers while others love pontoons to have fun with kids and family.
Things To Consider When Buying A Pontoon Boat: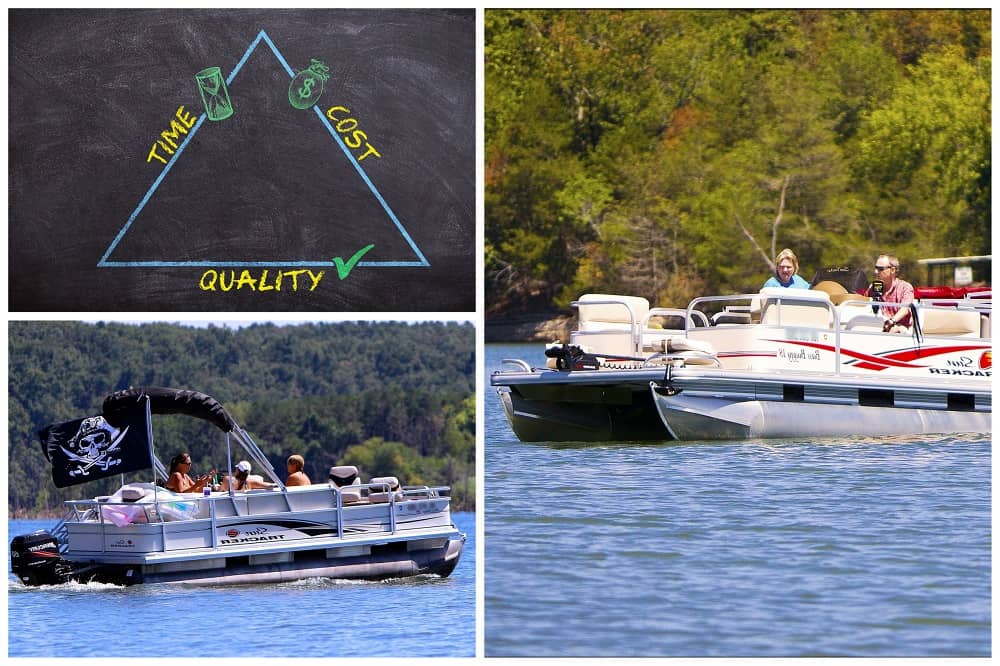 Tips To Make Your Pontoon Boat Go Faster:
Load and Weight on the Boat:
As mentioned above, the load on the boat is inversely proportional to the speed. If you want your boat to last long, reduce the amount of weight from the deck. Taking an extra load off from the deck will also boost the speed of the boat. Keep in mind the less the weight the faster the pontoon boat.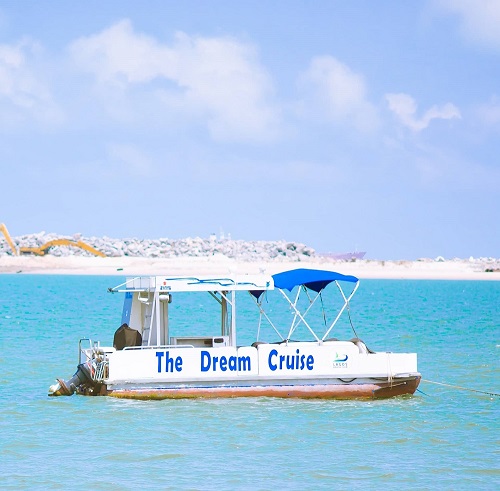 Placement of Engine Matters
You must place the engine in the right position. If you find your bow submerged in water, you have to use a hydraulic motor to tilt its direction. You have also to ensure that you don't take it upwards as it would do no good to your pontoon.
Keep Your Pontoon Clean
A clean pontoon is directly proportional to a faster pontoon if you are parking a pontoon in water, wax and clean your pontoon occasionally to increase the speed.
Lifting Stakes Make a Difference
If you are buying a modern tritoon or pontoon, then the chances of pre-installed listing stakes are high. Lifting stakes are stainless steel plates welded directly on pontoons to avoid bumps and easily glide over the surface.
Even if your pontoon doesn't have lifting stakes, we highly recommend you go for it because they make your ride smoother and add to the pontoon's fuel efficiency.
Don't fill the fuel tank full
It's quite simply that not filling your fuel tank full will reduce the pontoon's weight and increase the pontoon's speed. If you are not planning for long rides, we recommend you fill the gas tank half for a faster and smoother ride.
Upgrade Your Props:
As mentioned above, upgrading your props according to your needs will make your pontoons faster and your rides fuel-efficient. If you want a relaxing ride over the water, a conventional prop will do a great job.
On the other hand, if you want to engage in water sports like skiing, knee boarding, and wakeboarding, you will have to upgrade your props for a better speed.
Conclusion
When the concern is about the speed of your pontoon boat, you have to keep certain things in your mind.
One of the best ways to find the right pontoon boat is to pen down all your favorite water activities from the list and the minimum speed you require for the activity. It will help you in selecting the right pontoon boat speed.
Unfortunately, if you are not ready for this, you will have to compromise with an under-powered pontoon boat, and we are sure that you will regret this decision in future.