For the adventure seekers having access to a comfortable camper can be a great advantage.
But sometimes these campers cannot withstand the extreme climatic conditions and succumb to damages caused by many incidental factors.
One common problem that is often seen in these campers is a leaky roof. That's why it's important to learn how to fix a leaking camper roof on your own.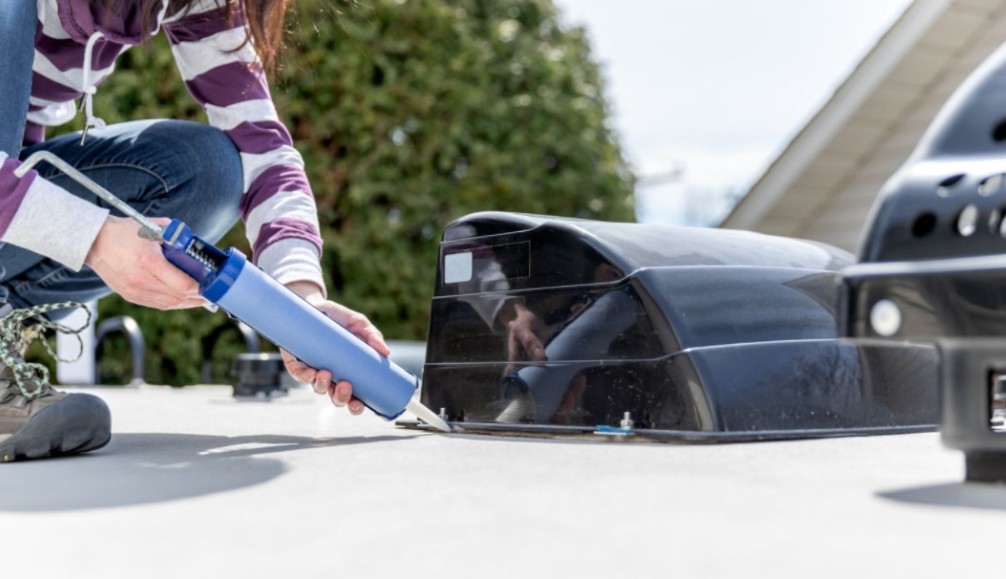 There are quite a few ways which can help you to learn how to fix a leaking camper roof, however in this article I am going to discuss one of the easiest ways (it involves two steps only) so that you can learn it without any trouble.
But before that you need to be aware of some general instructions. I am going to discuss that part now. 
---
Some General Instructions for Fixing a Leaking Camper Roof
It is true that to fix a leaking camper roof is no rocket science. But it requires proper knowledge and skill to have a satisfactory output. Also having access to the right kind of tools and equipments are also essential to repair a leaking camper roof.
Moreover, safety becomes a matter of utmost concern as you have to climb on top of the camper in order to fix the roof you camper.
For this you shall have to end up a couple of feet above the ground, thus making you vulnerable to a bad fall.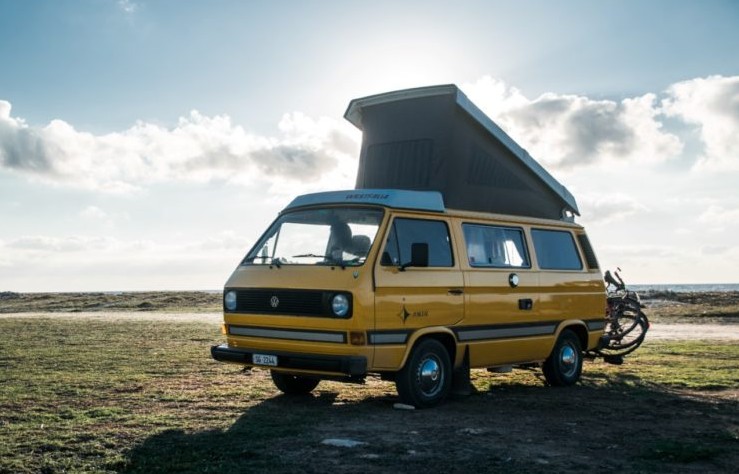 It is advisable to use multiple scaffold sets, plywood stacks etc. to have a comfortable task at repairing.
No matter the size of the leak, it is imperative to know how to fix a leaking camper roof. The very initial step that must be taken is cleaning by removing all the accumulated dirt.
For this you might need some appropriate ingredients as using the wrong materials for cleaning can cause permanent damage to the roof substance. 
For sealing the leak, it is advisable to opt for rubberized products as they are excellent in their performance. As for the tools that you shall need to accomplish the work, common tools that are found in the house are sufficient.
All that are needed is a pair of gloves, some paint brush, a broom and a trowel.
---
How to Fix a Leaking Camper Roof: (Two Easy Steps)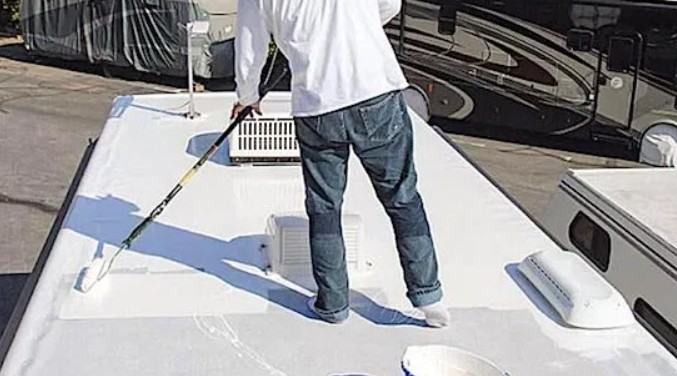 Step 1

: Cleaning the Roof
The cleaning of your roof is the primary step that should be properly undertaken. This is important to initiate the repair work that follows. The accumulated dirt including that of the debris and crumbs of the roof materials should be scrapped off totally.
This should be followed by cleaning the place with enough water and then wiping the place dry. Leave the place for a considerable amount of time to dry it completely. The entire process should be undertaken with utmost safety and caution.
Step 2: Repairing the Leak
The second and the most important step follows are repairing the leak. Depending on the material you are using, the following methods can be applied.
Rubber Roof
Among all the sealant materials, rubber is supposedly the most long lasting one. But it too needs regular maintenance to have a long lasting effect.
For this purpose various products are available like the Flex Seal, Geocel, and Rust Oleum to name a few. It is advisable to cover all the major areas without concentrating on only the affected one. This prevents future damage.
Fiberglass Roof
The technique of sealing of a leaky fiberglass roof is similar to that of a rubber roof. The defect that one might complain about is the lack of the original shine after the repair.
This can be overcome by using substances like acetone to clean the roof. All these things should be done going through the instruction manual properly.
Metal Roof
Initially metal was the most popular material for the roof of the camper. This was before rubber or fiberglass was used. Household roof coatings are excellent in serving the purpose of dealing with leaks in metal roofs.
Some special kind of tapes can also be used to cover the holes. But this should be done with proper care since once they get stuck to the surface, it cannot be peeled off.
---
Mostly a camper is exposed to all kinds of weather conditions when on the road. Though the roofs are hard enough, one cannot guarantee a lifetime resistance capacity.
They are bound to suffer leakage at some point of time. With the above information it should be helpful for you to know how to fix a leaking camper roof with proper efficacy.