Snowboarding and trekking on icy adobes are what we all crave as activities like these give immense pleasure, joy and act as a wonderful stress buster.
According to recent research, people have to give up their lives approximately every year owing to avalanches and snowstorms. That's why we must use the best avalanche airbags to protect yourself during hazardous situations.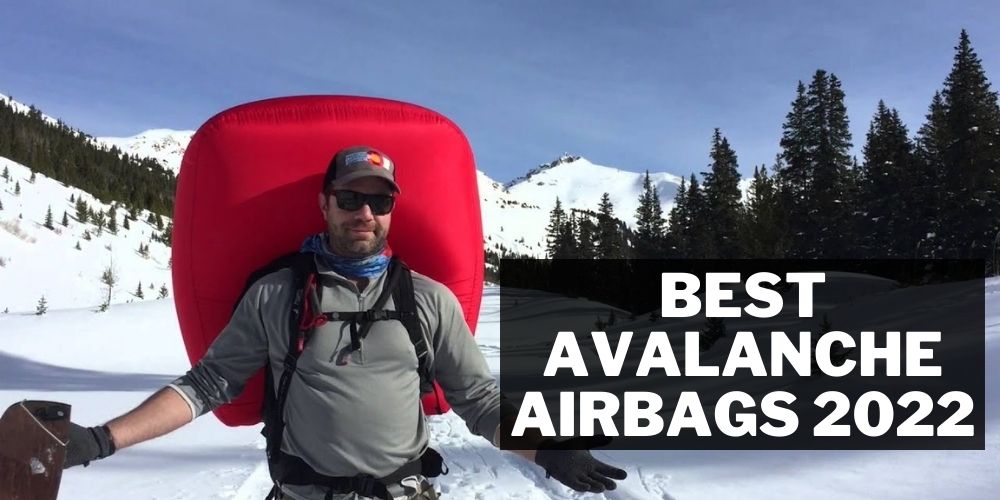 The prime focus of the best avalanche airbags is to prevent the wearer from getting buried inside the snow. Suffocation is one of the prime causes of death of a human getting buried inside the snow.
Generally, small objects tend to remain underneath during an avalanche, while large objects tend to remain on the top.
The best avalanche airbags work on the simple mechanism where it acts like a balloon which ensures that you rise to the top in the event of an avalanche. They have a healthy 81% success rate; hence you can trust them for your next trip.
In this article, we have compiled the best avalanche airbags 2022 for this winter. We have performed the research based on various criteria; hence you can find the one which suits your needs.
Best Avalanche Airbags 2022, Quick Summary:
Overall top pick: Black Diamond Jet force Tour 26L Backpack
Best in mechanism: Mammut Avalanche Airbag Backpack Pro
Best Featured : Backcountry Access Float 32 Avalanche Airbag
Best in the Budget : Thule Upslope Ski and Snowboard Backpack
Types of Inflation Systems in Avalanche Airbags:
Generally, there are two types of airbags, canisters powered by compressed air and electric airbags, which work on supercapacitors or are powered with a battery. Both the airbags are quite different from each other in terms of size, shape and capacity. Let us understand them in detail.
1. Canister:
Canister airbags work on compressed air or gas, held under pressure in an aluminium tank via a thin metal disc or O- ring valve. One has to pull the handle to activate the system during an avalanche. Airbags like Black Diamond's Jet-Force and BCA Float work on the canister system.
One of the best advantages of the canister bags is they are quite affordable compared to the electric airbags, and one can also refill the gas at any gas station with a specialized station.
Affordable.
Low maintenance.
Lighter when compared to the electric fan system.
It can be hard to find specialized gas stations.
Not a great option for practice.
They are banned from U.S flights.
2. Electric Airbags:
Electric airbags work on a high electric fan and work on batteries or supercapacitors, which work on batteries.
Moreover, supercapacitors and battery-powered fans differentiate from each other in terms of weight and lifespan.
One of the best advantages of an electric airbag is you don't have to move out of your home to refill.
No need to refill air cylinders or gas cartridges while using electric airbags.
You can travel with them in aeroplanes.
It can be used multiple times.
Expensive.
Professional maintenance is mandatory for electric airbags.
Electric avalanche airbags powered using batteries are quite expensive when compared to canister airbags.
---
Top 6 Best Avalanche Airbags 2022 Reviews
Key Highlighted Features
Capacity: 26 L
Weight: 5.8 pounds
Batteries: 1 Lithium-Ion battery
Category: Electric fan
Add-ons: Helmet holder and internal accessory pocket
Overall rating: 8/10
Jet force tour is the latest edition of black diamond's airbags and brings a lot of new features compared to the company's previous editions. Black diamond has also used powerful batteries and a supercapacitor that inflates a 200 L balloon of air.
The new system is also two pounds lighter, and most importantly, it can perform efficiently even at AA batteries.
What is the Alpride E1 electronic airbag system?
One of the jet force backpack's best groundbreaking features is its use of Pride's electronic airbag system, which utilizes a supercapacitor to gear its fan. Moreover, Alpride's supercapacitor also stands well ahead in the stride of traditional batteries.
The trigger is also interchangeable, which means right-handed users can wear the trigger on the left shoulder while left-handed users can wear it on the right shoulder.
This airbag also uses a mechanical trigger which makes it quite reliable when compared to the electric trigger. 
Functional designs
Powerful system
Easy to travel with
One can also wear triggers on both shoulders if they carry two additional AA batteries.
Expensive
Wide shoulder straps.
Editor's Pick
Overall the Black diamond Jetforce is an excellent backpack if you are not highly inclined towards activities like skiing or snowboarding. Alpride's electric system also makes it an amazing choice to buy.
---
Key Highlighted Features
Category: Canister (Compressed-air)
Capacity: 22 L
Weight: 6 Pounds
Add-ons: Straps to carry ski and snowboards and tool pockets.
Overall rating: 7.8/10
The float 22 from BCA is the best canister avalanche airbag available in the market. It comes with solid designs and a 2. O float cylinder, which is quite smaller and lighter when compared to Float 1. O.
The airbag also provides enough room for all the people to hold protective gear and skiboard. We can also fairly tell that float 22 is the lite version of float 32.
The Float 22 system also works well compared to other versions and will effectively function for a full day of touring. It is also one of the lightest airbags in the market, making it the best in the business.
We all know that Float used to be the market leader before the invention of electric avalanche airbags. Float 22 is a game-changing backpack that is packed with fancy designs and a functional interior.
Arguably it is one of the best avalanche airbags of 2022.
Lightweight
Incredible downhill performance
Flexible
Made from premium materials
The snow safety gear of the bag is quite small
Less volume
Editor's Pick
If you don't consider the smaller size of the snow safety gear, the Backcountry Access Float 22 is an amazing avalanche airbag to shop for in the market. It has fantastic designs and has impressed us a lot.
---
Key Highlighted Features
Capacity: 35 L
Weight: 5 pounds
Category: Canister
Add-ons: Removable airbag
Overall rating: 7.5/10
Whether you are looking for an avalanche airbag for one-day skiing or you want a complete safety package for trekking, Mammut Avalanche Airbag is one of the best options available in the market.
The high-performance airbag works impeccably well during dangerous situations and also outperforms other airbags in the list in terms of comfort, materials used, and smart features.
Mammut's RAS or Removable Airbag System also makes it the best in the business. One can also use the Mammut avalanche airbag, a powerful cylinder that can deploy the airbag in a fraction of a mile and can be game-changing in life or death situations.
Lightest avalanche airbag on the list.
Comes with an innovative RAS or Removable Airbag System.
Heavy-duty construction.
Versatile in nature.
Integrated helmet carrier.
Low on features.
Doesn't have an extra pocket for loading snow safety products.
Editor's Pick
As mentioned in the pros, the Mammut Avalanche Airbag with a removable airbag system is the lightest avalanche airbag on the list. Unfortunately, the airbag doesn't offer tons of features, making it perfect for travellers who want to feel light.
---
Key Highlighted Features
Capacity: 32 L.
Weight: 6.4 pounds.
Category: Canister compressed air cylinder.
Add on: Snowboard carry space, Ice Axe storage, and reduced space.
Overall rating: 7.4/10
The Backcountry Access Float 32 Avalanche Airbag is quite similar to the Mammut Avalanche Removable airbag in terms of design and size.
One of the best upgrades we have liked about this bag is that BCA has done a good job in reducing the size of the airbag hence providing much larger space to store other essentials.
The airbag opens from a breakaway zippered pocket and is also made using ergonomic designs; hence you don't have to worry about the size and the shape.
Although the BCA Float 32 doesn't offer as many special features as any other airbag on the list, it effectively keeps you on top of the surface.
Like Black Diamond JetForce, the BCA avalanche airbag also comes with triggers on both sides, making it perfect for both left and right-hand users.
Inexpensive.
30% smaller when compared to its predecessor.
Available in multiple colors.
Used ABS technology.
The size of the airbag might be a concern if you are a shorter person.
Not too many add-ons.
Editor's Pick
Although Backcountry access float 32 is quite bulky, it is best for people who love skiing and snowboarding activities. If you have a problem with the size of the Float 32, you can go with Float 22, which can be the right choice.
---
Key Highlighted Features
Capacity: 30 L
Weight: 6 pounds
Category: Canister
Add-ons: Hip belt pocket and carries skis on a diagonal frame.
Overall rating: 7.4/10
Mammut Light 3. O with RAS or Removable Airbag System avalanche airbag is included in our list for its sleek designs and functionality. The rich features of Mammut Light RAS 3.0 makes it ideal for a complete touring package.
One of the prominent features of the bags which has impressed us a lot is the PAS or protection airbag system, which reduces trauma as it is built on shoulder traps; hence it will wrap around your head, protecting you from severe injuries.
Although the bag is quite heavier, it is quite light compared to any other bag with similar features; but the design impresses a lot of buyers.
Awesome designs
Multiple add-ons
Better storage capacity.
Removable airbag system
Heavy.
A small snow safety pocket might feel less during dangerous situations.
Editor's Pick
The Mammut Light RAS 3. O Avalanche Airbag is a perfect match for all the people who want to class out there while skiing. Moreover, you can also remove the airbag and use the bag for various other cool activities.
---
Key Highlighted Features
Capacity: 20 L, 25 L, and 35 L
Weight: 5-7 pounds
Category: Canister
Add-ons: A spacious pocket to store snow safety gear and diagonal ski board storage space.
Overall rating: 7.9/10
The Thule Upslope Ski and snowboard avalanche airbags are perfect for their looks and diversity of sizes. One of the prominent reasons the company wanted to solve is creating an efficient environment for mountain trekkers.
You can bring a lot of essentials like water bottles, cameras, gloves and protective equipment to ensure that you can enjoy a seamless touring experience.
The airbag also uses the mechanism of Mammut Light RAS 3. O which makes it the best when the concern is about safety. We liked this bag the most because the company had planned well to dedicate a storage space for snow tools.
You also get a lot of space in this bag where you can store a helmet and a quick access pocket at the side from where you can pick all your essentials during emergencies.
Ultimate comfort and control.
Insulated straps.
Quick access pockets.
A spacious bag to store all the essentials.
RAS is technology-enabled, which means you can use the bag for various other activities.
Avalanche bag is quite heavy owing to its multiple features.
Very heavily priced.
Editor's Pick
The upslope Ski and Snowboarding avalanche airbag are great if you like to trek into snow storms or you like to go up and down the icy slopes for adventurous activities.
Under our observation, the bag has performed well even after giving heavy-duty tasks, and most importantly, you can store a lot of accessories in this bag, which makes it quite worth shopping.
---
Operating an Airbag in Cold Temperatures
Without any doubt, avalanche airbags are meant to operate in extreme weather conditions. It doesn't matter whether the avalanche airbag works on compressed air or an electric fan.
The black diamond jet force avalanche airbag and Mammut Pro X RAS bag are two of the best durable airbags when the concern is about protecting you from harsh weather conditions. These airbags can work efficiently, even at -22 degrees Fahrenheit, which is quite interesting.
Most experts would strongly recommend you go with these two options as they are made from the best materials.
How to Maintain and Store Avalanche Airbags: Tips And Tricks:
Although avalanche airbags are so expensive yet they don't have a much longer life span. The best avalanche airbags would only last for 4-5 years after the purchase, or you can hardly use them for 50 times or more.
You can follow some steps to uplift the life of an avalanche airbag like you have to use it at least once a year and let it dry completely before repacking.
You also have to perform a routine check-up of all the essential parts of the airbags like the cylinder, electric fan, wiring, and deployment handle.
Tips to consider while storing an avalanche airbag:
Obviously, you will only use the airbag once a year; hence, you have to ensure that you store it in the best possible condition. You have to keep it in a cold environment away from sunlight as they are meant to perform well in cold climates.
At the same time, if you are using an electric or battery operated avalanche airbag, you will have to keep it away from moisture. You also have to ensure that you store them with a minimum of 75% battery life.
Finally, when you take the airbag out for a trip, ensure that the canister cylinder is filled with the gas or completely charge the electric batteries if you use an electric avalanche airbag.
---
What To Consider Before Choosing Avalanche Airbags (Buying Guide)?
1. Weight:
Weight is one of the most important factors which you have to consider while shopping for avalanche airbags. Electric airbags are quite light when compared to compressed air or canister airbags. Weight also has an impact on the style of your skiing. Nobody would like to track on difficult terrains with a heavy airbag.
2. Airbag bag capacity:
The majority of the airbags in our list lie from 20-35 litres, and the airbag capacity depends on the type of trip you are interested in.
If you are opting for a full-day trip, a 25L avalanche airbag would be more than enough, while if you want to trek for a week or more, you need to go with airbags having a larger capacity. Keep in mind larger capacity means larger tools and larger weight.
3. Features of airbag:
Airbag features also play an important role during the purchase as they will affect the quality of your trip. When buying an airbag, look for features like helmet holder, Avy tool pocket, Ski or snowboard attachment, and multiple quick-access pockets.
Most modern-day avalanche airbags have all the features; hence you have to shop according to your needs.
4. Value:
Apart from the price tag's impressive features, it is also important that you don't shift your focus from the values of the airbag. It is always important that you invest in a durable airbag that can last long as you use it only once a year.
 As mentioned above, most of the airbags can only last 4-5 years after the purchase. Hence you have to shop accordingly and go for the durable and made from the best materials.
In our list of best avalanche airbags, Backcountry Access Float 32 Avalanche Airbag is the best value backpack that you can buy for this winter. 
5. Airbag systems:
When the concern is about the system, it is vital to look into the details of the airbag as it can play a huge role in life or death situations. When buying an airbag, check what type of gas is inside the canister, compressed air or supercapacitor.
What mechanism will trigger the airbag, and does the airbag have interchangeable triggers?
Suppose you are going for an electric backpack; how many extra batteries you must carry. In our list, Black Diamond JetForce Tour 26L Backpack is the best airbag as it has the best trigger mechanism and a long-lasting battery. 
6. Removable/interchangeable backpacks:
If you don't want to keep the airbag in a storeroom for a year, you can go with airbags having a RAS or removable airbag system, which gives you the advantage of using the airbag on different occasions.
At the same time, interchangeable triggers can also be handy as if you are left-handed, you can keep the trigger on the right, and if you are right-handed, you can keep the trigger on the left.
Although you have to use extra batteries to power this mechanism, it is worth it. 
7. Air transportation:
If your skiing location is far away from home and you plan to take a flight to reach there, you will need to understand the rules. According to the U.S Air Transportation Association, you cannot carry a compressed air canister that is filled.
On the other hand, electric airbags powered with supercapacitors or batteries are good to go. In such cases, you will have to remove the gas from the cylinder before the airport authorities before departure.
You can get your cylinder filler at the location if they are available.
8. Downhill performance:
When you have to travel down the hill, you will need to go for an airbag which is quite lighter. In our list Backcountry Access Float 22 Airbag 2. O and Mammut Avalanche Airbag Removable Airbag Pro are the exceptional downhill performers.
9. Airbag size and fitting:
By now, you must be well aware that airbags are heavy; hence size and fit become even more important here. An avalanche airbag with poor fit will only increase your troubles and even lead to death during dangerous situations.
Therefore, you have to shop for an airbag that perfectly fits your body.
---
FAQs
Get your all questions answered here:
Are avalanche airbags worth it?
According to recent research, wearing an avalanche airbag has saved 80 out of 100 people who have been involved in avalanches or snowstorms.
On the other hand, a study issued by the Swiss federal institute of snow has pro