How many times have we laughed aloud at the video of a poor camper trying hard to save the day with his/her juvenile mattress inflation techniques? If you do not want to be one of them, then this article on how to inflate an air mattress while camping is exclusively for you.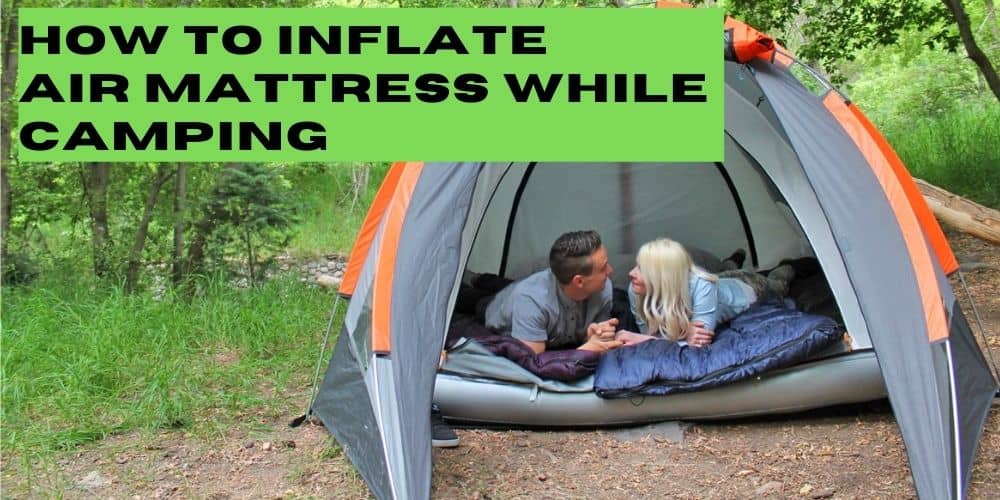 It's not a very heavy and spacious item and gives you an extra comfortable sleep at night after a long tiring day in camps. Moreover, they are available in various sizes providing you options to choose from first off.
Air mattresses come in various types, and some have inbuilt air pumps, while some require external methods for inflating air mattresses. Their inflation depends to a large extent on the availability of resources and other electric power sources.
The best thing about these air mattresses is that you can use them at home when the guests arrive and you can't manage to have an extra bed at home. I have seen many of my friends prefer to buy these mattresses instead of a new bed for their medium size homes.
How to Inflate an Air Mattress while Camping
I learned how to inflate an air mattress while camping correctly after failing multiple times. In fact, inflating an air mattress while camping can be a bit tricky. Despite this, there are various ways of doing just that, which are discussed below.
If your campsite has electricity then, it is easy for you. It would help if you had an outlet plug to inflate your air mattress. But if not, then a 12V DC plug is designed for your car cigarette lighter, which can make your inflating work more accessible and better.
Manual pumps could be a good option to inflate your air mattress if electrical outlets are not available in the campsite. One can use a bike pump or hand pump for small air mattresses, but if you have patience you can use a ball pump.
It may be possible that you forgot your pump at home. In that case If you have a hair drier, vacuum cleaner, or leaf blower, then you can inflate your air mattress with a bit of effort.
Tips on Picking the Ideal Campside
Try to find a campsite where electricity is readily available. In that case, it will become much easier to follow this guide of how to inflate an air mattress while camping.
How to Choose a Campsite
Electricity plays a crucial role in providing ease for and inflating air mattresses. So if possible always pick a campsite where electricity is readily available. However, there are many campsites where you won't be able to get this facility. Let me guide you on what to do on such scenarios.
What to do if Electric Outlets are Far Away
Most of the camping sites near your town will provide you with an electric facility. But what if electric outlets are far away from your camping position? In this case, you need extension cords for inflating air mattresses and other power appliances. Else you have to go for electric outlets to use it.
What to do if No Electricity
If you are camping in a non-electric site or far away from electric outlets, then a 12V battery is the best option for you. Mandatory needs can be easily fulfilled, through which you can quickly inflate your air mattresses and charge your cell phone and supply power to small appliances.
How to Inflate an Air Mattress while Camping
with Pump and Electricity
Air mattresses are one of the critical "must-have" things for all camping lovers. Here, I am mentioning some of the vital equipment that one can use to inflate an air mattresses while camping.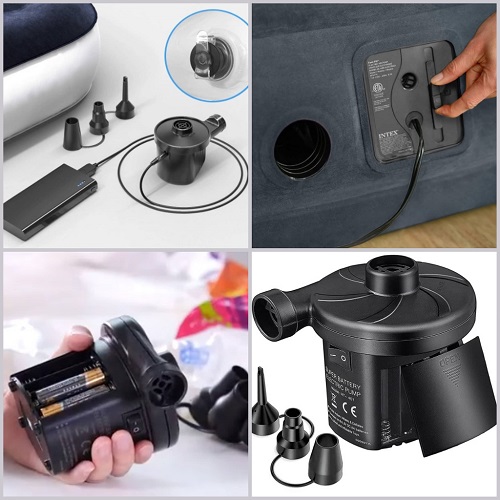 Built-in Air Pump
These most convenient pumps are available in two variations, battery-operated and plug-in-operated. The best thing about these in-built air pumps is that they are built inside the sleeping mattresses. You don't need to carry any extra equipment for its inflation.
Battery-Operated Air Pump
These are the best types of air pumps I came across. The only problem I face is battery exhaustion during the camping trips. Thus, it would help if you were sure that the battery is entirely charged while camping to avoid interruptions.
The Plugin Air Pumps
The Plug-in Air Pumps require electricity for their operation. It would help if you had an electricity supply for such pumps to operate. The typical requirement of electricity for the operation of such pumps is about 120 volts.
However, I will always advise you to have some external support/extra equipment for inflation if you have a plugin-operated mattress because there are possibilities for the electricity to run out at the Campsite/source.
Electric Air Pumps
Electric air pump requires good electricity for its smooth utilization. So, if you are going to carry electric air pumps on your trips, I firmly insist you at least once have a glimpse over whether your campsite provides electricity or not or if you have some equipment for its operation. The electric pump has three subcategories that I am mentioning below :
12 V Electric Air Pump (It Plugs into a 12V DC Socket)
Now, let's wonder what you will do if you reach a Campsite where the electricity supply is almost zero. In that case, a 12-volt electric air pump that can operate through car batteries will prove to be a blessing for you.
All you need to do is connect the mattress to the required socket in the car, and you will see your bed inflating without much effort. I will always suggest you always turn on your vehicle to avoid unnecessary stress over its electrical equipment.
Using a DC Power Inverter with an AC Electric Pump
This equipment, the DC power inverter, can be easily inserted into the car's socket to provide AC electricity supply to the air pump. It's mandatory to have the vehicle in the running position by using a DC power inverter to avoid unnecessary stress on the car's electrical equipment.
Using Power Bank with an AC Electric Air Pump
When asked for suggestions about the vital equipment needed for camping, I always get a "power bank" as one of them in reply. And yes, it's true. But what if we have such equipment for charging our electric pump? It's going to help you a lot during your entire trip.
You don't have to look for other electricity sources or something else; charge your electric air pump anytime. one can easily change the power bank from the car socket. Even some Power Banks come with solar panels that can support charging of the Power Bank through the sun.
Battery Powered Air Pump/ Portable Pump
Now, this is one of my favorite things to carry. You don't have to take tension for any other electrical equipment/sockets/supplies. All you need to do is charge it to its maximum and pack your bags tight for the camps.
How to Inflate an Air Mattress while Camping
with a Manual Pump and without Electricity
Hand pumps, foot pumps, and bike pumps can be used if you are ready to do some minor hard work while filling the air mattresses.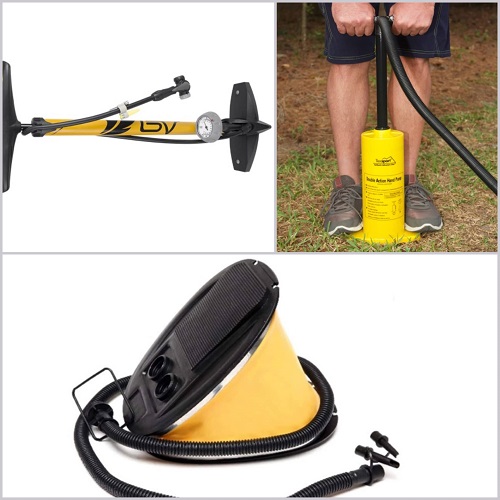 Hand Pump
Step 1: Attach the valve of the Hand pump to the valve of the Air mattress.
Step 2: Pull the pump stick and then push it slowly to fill the air.
Step 3: Repeat step 2 until the air mattress fills with air.
This method could be more helpful if you have a Double-Action pump because it will reduce the labor you put in using the regular pump. This method will take approximately 30 minutes.
The main advantage is you are filling every time you push the pump stick, and also, the air does not come out when we pull the pump stick.
High Airflow Foot Pump
Step 1: Attach the valve of the Foot pump to the valve of the air mattress.
Step 2: Press the foot pump using your foot and then release it gently to fill the air in the mattress.
Step 3: Repeat Step 2 until the air mattress fills with air.
This method will take 45 minutes to 1 Hour and a lot of footwork to fill the mattress. But pressing the foot pump for 45 minutes can be tedious and tiring work.
Using Bike Pump
Step 1: Fix the bike pump valve into the air mattress valve and fix the air pressure.
Step 2: Now Start filling in the air to the air mattress.
This method uses a lot of hard work because Bike pumps are used to fill bike tires that do not require as much air as an air mattress, but they can pressure. The bike pump normally takes almost an hour as it fills the air slowly.
How to Inflate an Air Mattress while Camping
Without the Pump but with Electricity
In some cases, when you have electricity, but unfortunately, you don't have a pump, these below mentioned equipment may prove to be beneficial for you.
Hair Dryer
Having someone obsessed with using a hairdryer can prove to be a blessing for you. You can even use a hairdryer to inflate a mattress similar to the way the pumps work. The only thing you need to take care of is how to lock the air passage between the mattress's valve and the hairdryer's mouth.
This can be done using the strong Cello tapes or anything similar to it.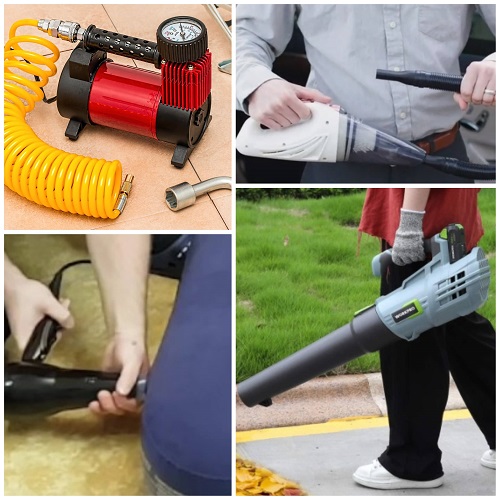 Vacuum Cleaner
You must rarely be carrying a Vacuum Cleaner during your camping trip. But in case you have it, this method could be used to inflate a mattress quickly. Vacuum cleaners work similarly to air pumps.
However, the problem you might face here is similar to the one in the hairdryer. You need to properly seal the passage between the mattress' valve and vacuum cleaner for proper inflation.
Air Compressor
Many times I have used compressors for inflating my vehicle's tires, and in fact, that's where I got the idea to use it for mattress inflation. It would help if you tried it when you don't have the air pump.
The only thing required for it is a little effort of your hands and a good stoppage so that air doesn't skip out from the passage between the valves and air compressor.
Leaf Blower
Leaf Blower, a standard gardening tool one must have in one's house. I feel we can use this tool effectively for inflating mattresses. The problem going to arise here is similar to the ones listed above. You have to make proper arrangements to avoid the leakage of air.
These are indeed the odd ways to tackle the problem of mattress inflation. But, I think at such weird places where you don't have any means to arrange them, you can enjoy the experience of camping.
How to Inflate an Air Mattress while Camping
Without a Pump or Electricity
This year, I did a lot of research over all the basic stuff during camping to not miss any of them. One of those things was how to inflate an air mattress without electricity.
Fortunately, I never faced such a problem, but if you ever plan to go on Trekking or Camping, after reading this, you will get a lot of information at one place that's going to be beneficial for you. I am going to list down three ways to inflate an air mattress without electricity or a pump.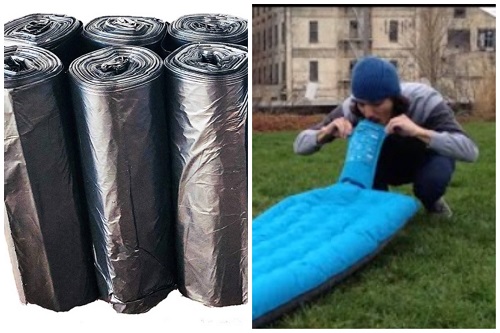 Using a Garbage Bag
Many times I have used compressors for inflating my vehicle's tires, and in fact, that's where I got the idea to use it for mattress inflation. It would help if you tried it when you don't have the air pump.
Take a garbage bag and cut one corner of it from the bottom. Remember that the cut should be almost the same size as the valve of the mattress from where the air goes in.
Fix the garbage bag cut over the mattress opening, and tie it tightly with a rubber band.
Now catch the air in the garbage bag by giving it a soft jolt in the air or by blowing air in it using your mouth.
Then seal the opening of the garbage bag with your hand and collect the air by putting pressure on the bag.
Now keep pressuring slowly near the mouth of the air mattress to fill all the air in the mattress. Do not put too much pressure; otherwise, the rubber band will pop out.
Repeat filling the air and pressuring it to go into the mattress until it is completely inflated.
This is the best method to fill in the air if you do not have a pump or electricity but have a garbage bag. This method will hardly take 10 minutes to fill the mattress with air.
Using Your Breath
Open the valve and start blowing air from your mouth. That's it.
This method can take 45 minutes- 1 hour and can tire you badly, so I would not recommend it.
Borrow a Pump
In case you forget your air pump, do not hesitate to borrow it from the other groups that are present on the Campsite. It is possible only if your friends' group is not the only person you have trekked with.
Frequently Asked Questions (FAQs)
My guide on how to inflate an air mattress while camping is over, but still there are a few questions that may pop on your kind. Here I am trying to answer a few of them for your convenience.
How long should you inflate an air mattress?
Inflation of air mattresses is depending on their size and method of inflating. If a mechanical process is adopted, it requires less time than the manual method. Approximately it takes 40- 45 minutes to inflate.
How do you inflate an air mattress with a built-in pump without electricity?
It is also possible to inflate an air mattress in the absence of electricity; there are few methods in which a ball pump, bike pump, and hand pumps are included.
How can I prevent deflation if my air mattress deflates quickly after I use one of these methods?
The deflation in the air mattress can be reduced but can't be prevented completely. It's a natural property of plastic molecule containers; even if your air mattress is tight, gas molecules will creep.
Conclusion
This air mattress is significant for you to go on an adventure and spend some time there, which helps you spend the night in peace. That's why you must learn how to inflate an air mattress while camping. Here's a quick recap,
Usage of a campsite electrical outlet that has a plugin pump is number one on the list. This is the only option when your campsite happens to be near an electrical outlet.
No outlet or no vehicle campsite calls for an available battery backup or availability of a small generator.
Use handy objects like a hairdryer or a vacuum cleaner if nothing else is at all handy.
A battery-operated electrical pump can also be helpful if you run out of room for a generator or battery packs if an outlet is not handy.
In case you run out of all options, last but not least, use garbage packs to inflate the mattress.
Try to buy a light but good mattress because a heavy mattress can hinder your speed in your adventure. Apply some tips on how you can use the mattress very easily. Remember that in any bad situation, your right instantaneous intelligence can save you even in extreme cases.