Buying a new pair of climbing shoes means you will have to face the irritation and pain as your feet rub with the interior lining of the shoes. You might develop abrasions or blisters leading to pain and making you feel uncomfortable.
Knowing how to break in climbing shoes eliminates the chances of hiking-related injuries; hence you don't have to feel the radiating pain of blisters. In some cases, ill-fitting shoes also lead to various long term problems by causing numerous changes to gait.
Honestly speaking in case of climbing shoes, you will have to consider numerous factors before finalizing the right pair of shoes for your new gear. So if you don't know the correct break in procedure, you may face trouble.
I love to climb and explore undiscovered locations; hence I expect absolute performance from my new climbing shoes. I also don't want to climb in agony, and I expect the same from you. Today, I will share some of my best tips related to climbing shoes and discuss the right techniques for breaking in climbing shoes.
Types of Climbing Shoes:
Not all shoes are same!
Neutral Shoes:
They are great for beginners who want to get used to the rigorous climbing sessions in future. Most of the neutral shoes tend to be straight to offer a relaxed position to other shoes.
They are great for beginners who want to get used to the rigorous climbing sessions in future. Most of the neutral shoes tend to be straight to offer a relaxed position to other shoes.
The neutral shoes help in boosting performance and, most importantly, without impacting comfort. These types of shoes are not only meant for new climbers as many experienced climbers also use them for efficient climbing.
Inter-mediate Shoes:
Inter-mediate shoes or all rounder shoes have a down offer better grip, and it can be trickier for new climbers to get used to the shoes.
These types of shoes have thinner and stickier rubber which provides better grip and sensitivity on rocks. They are also called the jack of all trades as the climbers can use them on various trails, multiple paths, and crack climbs.
Intermediate shoes are ideal for all climbers who want to push their levels to a higher grade. Most of the veteran climbers also use all-around shoes as training shoes.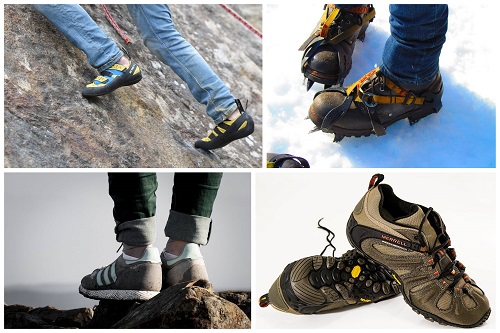 Advanced or Professional Shoes:
The advanced or professional climbing shoes offer sheer comfort and meet the desired quality standards required for climbing on rocks. They are downturned shape pushing feet in banana/claw shape.
Expert climbers also describe advanced climbing shoes to the feet of monkeys that have the best grip on rocks.
Undoubtedly, professional climbing shoes are not comfortable. Hence you will find climbers removing them more often while climbing huge rocks.
How To Break In Climbing Shoes?
Buying a new pair of climbing shoes is not child's play because you will have to consider multiple factors like size, fit, shape, grip, and most significantly, comfort.
I have been climbing various hills, from snowy abodes to rocky hills, which helped me in finding the best shoes for climbing.
When the concern is about climbing shoes, I don't recommend climbers follow the "One size fits all" trend. Dealing with blisters arising from climbing shoes can be stressful, and here are some of my personal break-in hacks that will help you in reducing swelling and pain.
Learn how to break in climbing shoes in 8 different ways. All the tips are very easy to follow, and work like a charm.
Take A Hot Shower While Wearing Them:
Wearing the shoes in a hot shower is one of the most efficient ways of breaking in climbing shoes. The technique might sound strange, but it has helped me over the years in preventing painful blisters.
It doesn't matter whether you wear stickers or you have velcro or lace fit; getting into a shower for 10 minutes will adjust the shoe based on your feet.
Once you come out of the shower, walk in your garden by wearing them for 15-20 minutes; you must also add newspaper to the shoes for the next 3-4 hours.
The next day we went for a short climbing session to adjust the shoes with our feet. There are chances that your shoes might release the dye coloring your feet.
Freeze Your Pair of Shoes Overnight:
The rule of thumb for preventing blisters is by stretching the shoes according to the climber's feet. It is another odd trick to stretch your shoes, but it is quite effective for various climbers once again.
Fill two zip-lock bags with tap water and lace or Velcro them loosely. Place the shoes inside the freezer. The water and the shoes will expand overnight.
Place the shoes inside the freezer for 10-12 hours and rinse them completely. Keep in mind never place the shoes directly in the freezer as it can lead to discoloration or can remove the dye.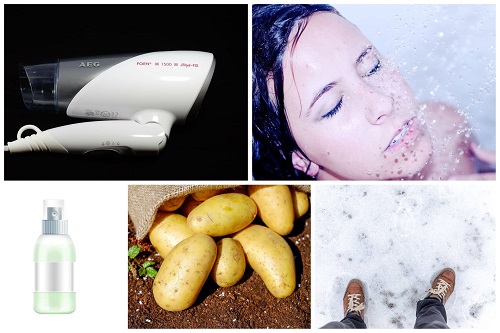 Use A Hair Dryer or Blower:
One of the most conventional and easiest ways to stretch or break in a pair of climbing shoes is by using a blower or hair dryer. To do so, fill the shoes with a lot of fabric and warm them up with a hairdryer for 2-3 minutes.
Once they are warm, flex the shoes and repeat the process until you feel the stretch. Also, flex the shoes softly to avoid damage.
Once the process is complete, heat the shoes one last time after removing the socks or fabric padding. Go for a walk while wearing the shoes to check if they fit. It is important that you repeat the process several times for better results.
Wear A Plastic Liner On Your Feet:
Wearing a new climbing shoe can be painful, owing to the friction between your feet and the shoe. It is also difficult to fit the foot properly in a new shoe.
Wearing a plastic bag or wrapping it around your feet before wearing it will reduce the chance of blisters and pain. I felt a lot more comfortable while wearing a plastic wrapper on my feet while trying a new pair of climbing shoes.
The technique is ideal for stretching the upper front of the shoes and also extends the shoes in the right direction. I would like to recommend this idea to all the climbers who want to extend their climbing shoes for a small stretch.
Buy A Shoe Stretcher:
If you don't want to wrap your leg under a plastic liner or you don't want to blow your shoes with hot air, buying a shoe stretcher is the easiest way to break in your shoes.
Shoe stretchers offer wide-range of benefits making them the perfect tool for breaking in shoes. Generally, all the shoes loosen or adjust to your feet with time but shoe stretchers can help you in achieving this quickly.
They are popular for enhancing the fit of the shoes with 4-way spreading. They are also made with premium quality ABS plastic resin and will have uninterrupted service for 10 years.
You can also use the shoe stretcher for all types of shoes making them versatile in nature.
Use Potatoes:
It sounds funny and interesting, but it is one of my favorite DIY methods for stretching climbing shoes. It is important that you select potatoes that are larger than the size of your shoes, or else the technique is useless.
Peel two large potatoes, one for the right shoe while the other for the left shoe. Keep in mind to dry the potatoes using a paper towel before inserting them inside the shoe.
Leave the shoes overnight and remove the potatoes in the morning. It is also important that you clean the excess moisture from the shoes.
Try on the climbing shoes, and if you feel a change in size, then don't repeat the process. Walk around for 5 minutes to increase the stretch and make the shoe more comfortable.
Stretch Your Shoes With Rubbing Alcohol:
Rubbing alcohol is also one of the best ways to stretch your shoes. To do so, take diluted alcohol in a spray bottle or add 50% water and 50% alcohol to the bottle. Spray the mixture in the inner lining of the shoes.
Once dried, wear the shoes for 45 minutes, and you will feel the stretch and painless procedure. You can also repeat the procedure by rubbing alcohol for the next few days for better results.
Tip: Rub alcohol on the parts of the shoes that are extremely tight for an ideal fit.
Don't Forget To Wear Socks:
Whether or not wearing socks while wearing new climbing shoes is ideal for breaking in the shoes. The idea of wearing socks under the climbing shoes is an efficient and most underrated technique.
It is also quite an easy and cost-effective solution for stretching the shoes. It is also important to select thicker shoes for a better grip. If you are trying this idea, then wear socks on the first few trips once the shoes perfectly fit.
I suggest wearing an extra volume of socks to ensure that there are fewer chances of minimizing hotspots.
There you have it! Now you have some of the best techniques of how to break in climbing shoes that you may have bought very recently. I hope you use this idea while wearing your next pair of climbing shoes.
Should You Buy a Used Pair of Climbing Shoes?
Yes, you can go for a used pair of climbing shoes. If you don't like to bear the pain of wearing a new pair of climbing shoes, then going with the old climbing shoes is the right choice.
On the other hand, if you commit to the new pair of climbing shoes, keep rubber wear in mind. Just like buying any other new item, you must also ensure that you go for the best quality used climbing shoes.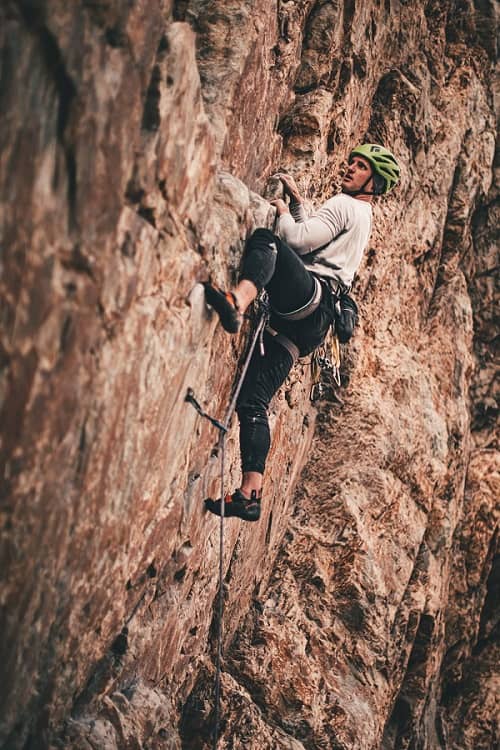 When buying a used pair of climbing shoes, check for toe dragging or uneven worn which indicates poor quality use, or a new climber has used the shoes. Also, check for fit and avoid shoes that don't fit properly.
FAQs Related to How To Break In Climbing Shoes
There are a few questions that may arise on your head if you are following this master guide on How To Break In Climbing Shoes. I am trying to address a few of them here.
Do climbing shoes stretch?
Yes, you can stretch the climbing shoes, and most of the experts would suggest you do so to better the overall fitting of the rock climbing shoes. The stretching of the climbing ensures a better fit. It can be very difficult to climb rocks if you cannot stretch the climbing shoes.
Do you need to break in climbing shoes?
Just like hiking boots, you must break in climbing shoes for better comfort. Breaking in climbing shoes will stretch the toe ends and main materials of the shoe to provide the best fit according to your feet.
Breaking in climbing shoes will offer a wide range of benefits like no pain, better fit, and excellent climbing performance. You will find most of the expert climbers breaking in their climbing shoes while training to prevent disasters and pain at the time of climbing.
Should your toes be curled in climbing shoes?
No, your toes should not be curled while wearing climbing shoes. Your climbing performance might be adversely affected if your toes curl inside the climbing shoes. A slight curl is acceptable, but it is also important to check if the shoe doesn't get tight.
How tight should climbing shoes be?
Your climbing shoes must never be uncomfortable. It is always important to select climbing shoes that are not tight and uncomfortable. Selecting poor-fit or tight climbing shoes will significantly compromise your climbing performance.
Moreover, wearing tight climbing shoes is not good for your health as they add excess strain to your foot and affect blood flow.
Conclusion
Whether you want to walk on a hill or climb some of the toughest rocks on earth, the right rock climbing shoes are absolutely necessary. When you are shopping for climbing shoes, nothing is more important than comfort.
It is also important that you have a basic idea about the stretching of climbing shoes. Following my guide of breaking in climbing shoes will make your climbing session painless and also will eliminate the chances of blisters on toes and feet.