Modern technology has made life so easy and predictable that we have come to that point of life where we have to literally 'plan' for an adventure trip. Having said that, adventure and travel is really vital for human life as it opens up our mind and we go about exploring more avenues and aspects of life.
So, it is always better to spend your holiday or a long weekend at a destination where nature has the upper hand. But to make such holidays worth it and memorable, you will have to make sure that you are perfectly ready for them and have the right tools (like dust masks) with you so that you are tension free and are able to spend the time cherishing nature and its beauty.
Now, in order to feel alive on the bank of nature, tents are one of the most important tools that mankind build. However, some of the tents are too complex to set up, and that's quite irritating. That's why we recommend some of the best instant tents, as they are easy to carry and set up. So if you're willing to take a blissful trip to some adventurous places, then first buy an instant tent, as that should be the first thing that you need to back before get going.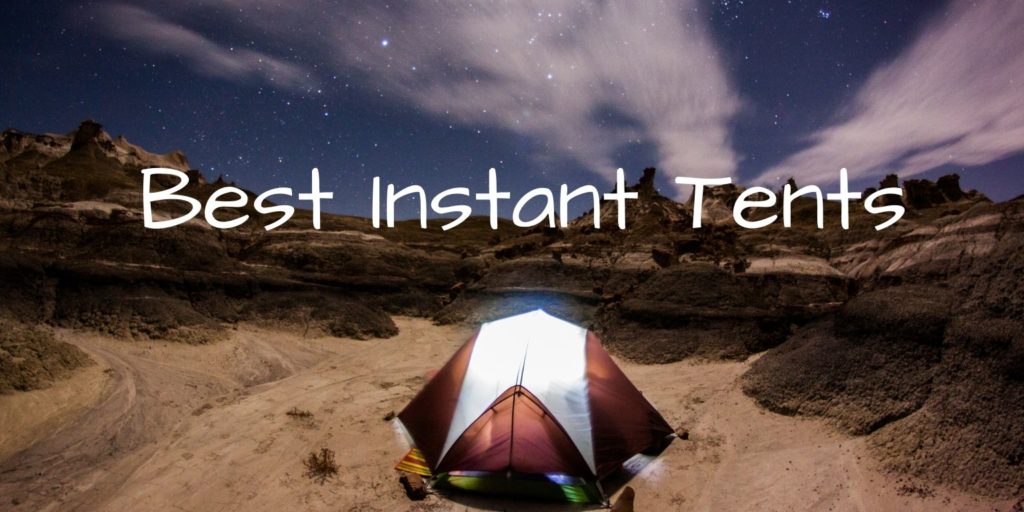 Table of Contents
What Are Instant Tents
Instant tents are shelters that can be setup in no time and with minimal efforts. They are better than your traditional tents because of the fact that they are very easy to set up, light weight, portable and also have all the features that the regular tents have.
Best Instant tents are made from some fabric panelling inside them such that their internal poles help them set up really quickly. They are made in such a way that the whole tent can be wrapped in a bag and is really light weight such that it can be carried anywhere and everywhere.
Also, almost all of them are completely waterproof and are strong enough that a high intensity storm cannot blow them away.
Best Instant Tents 2021 Buying Guide
Like any other product, an instant tent too should be bought after a proper research done one the same and finding the best one that suits your holiday destination and its weather.
Also, you should also keep in mind with whom and how many people you will travel with, the build quality of tent and the material and fabrics used to prepare it, its durability and most importantly your budget.
It's always good to ask questions to yourself before investing your money on anything be it best instant tents or anything else.
Well, that totally depends on the number of people you are travelling with and how much space you want in your tent. Also, you should keep in mind that a 4-person tent will just accommodate 4 people with barely any space to move freely.
So, for 4 people, it is recommended that you buy a tent that is meant for 6 people for a more comfortable stay.  Also, there are various varieties in bigger tents too. For instance, if you are going out with your kids or another couple, there are multi-rooms best instant tents available too.
Material Used and Build Quality
Now that you are done with comfort, safety is an important concern too. So, you must check for the material which is used to make the tent and is it compatible for all seasons and weather conditions or not.
One more important factor to check out for is the roof vent. It is basically an opening at the top of the tent which opens up with a zipper.
It's always beneficial to have this option as it facilitates ventilation and you can enjoy some fresh air if you go hiking in summer.
You do not want to get drenched in cold water while you are having a peaceful nap. Do you? So, it is always better to have a rainfly in your tent which basically acts as your umbrella. The rainflies should be spread across the tent on all sides because the tent walls are water repellent. 
Top 10 Best Instant Tents 2021 Reviews
Honestly speaking it was not easy making this list of 10 best instant tents. There are many brands making such tents. We reviewed at least 25 different products before coming up with this master list. We consider factors like easy to set up, easy to carry, lightweight, durability, value for money etc before making this piece of content. This article took us around 100 hours of testing and reviewing, so we hope you will like and appreciate our effort. 
Product #1: OZARK TRAIL 12-PERSON INSTANT CABIN TENT
The Ozark Trail instant cabin tent comes with dimensions of 16×16 feet which is enough to fit in 12 people. The tent has 3 separate rooms and 7 fully close able windows.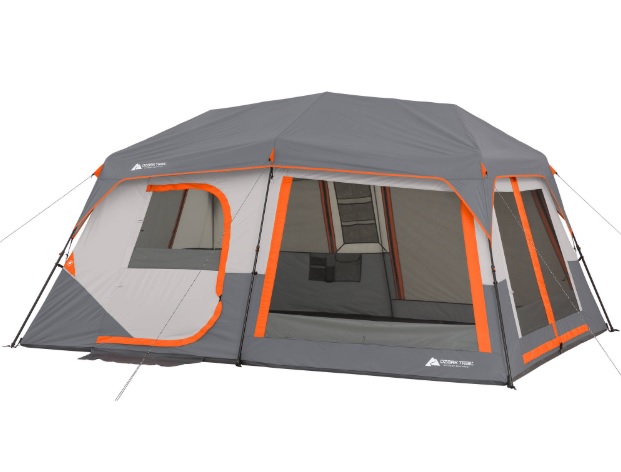 Ozark assures full taped and sealed seams which provide leak protection and a completely dry environment.
The tent sets up in about 2 minutes as the poles are already attached to the tent and you just have to unwrap and extend it to make it ready. There is absolutely no hassle of assembling and mounting the tent.
The centre height is about 6 feet 10 inches and the weight of the package is about 61 pounds and also the tent can acquire 3 queen beds.
The tent has access to electrical cords and has a free-standing frame design. The material used to make it is 68-D coated polyester fabric which promotes durability and protection against rain and other leakages.
So, let us now check the Pros and the Cons of this product:
Very easy to setup
Ventilation space has been provided
Rainfly is present to ensure waterproofing
Highly Durable and value for money.
They are tough to repair in case of any damage.
Our Verdict
This tent from Ozark sounds like a perfect tent if you are going on a trek or for camping with your family or friends as it fits as many as 12 people.

Buy Now From Amazon
Product #2: COLEMAN MONTANA TENT FOR CAMPING
Before getting to the review, let me tell you that Coleman is one of the most reputed and the most trusted brand in the camping tents industry.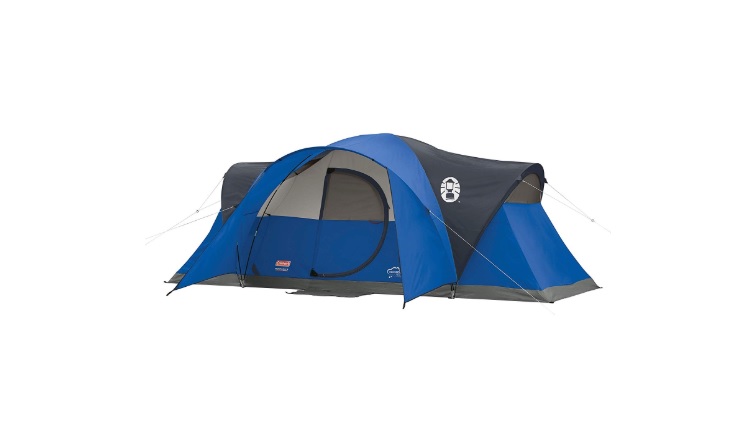 So, this camping instant tent from Coleman is a very easy to set up outdoor tent which is completely weatherproof.
The tent has welded corners and seams that are inverted in order to stop the water from coming in. Also, the rainfly that comes along with it is pretty big and is spread all across the tent.
The tent also has an extended hinged door that smoothly opens and closes and comes with an extended awning.
The build quality is amazing as the tent is made up of a double-thick fabric that is suitable for all weathers.
Lastly, talking about the dimensions of the tent, it is about 16 x 7 ft. with 6 ft. 2 inches being the central height. It is more than enough to fit about 8 people and gear and it also fits 3 queen-size air beds.
Here are some of the pros and cons of this product, which is arguably one of the best instant tents of 2021:
Very easy to set up. No assembling required.
The Tent has small pockets which keeps the rooms organized.
This is a very cost-effective option
The product comes with a 1- year warranty.
Some customers have complaints regarding the rainfly being defective.
Our Verdict
All in all, it is a solid tent and if you are looking for something that lasts long, this would be the perfect buy for you.

Buy Now From Amazon
Next up in the list of best instant tents 2021, we have this instant cabin tent from Core which fits in 6 people and is big enough to fit in about 2 queen sized mattresses. The centre height is about 72 inches.
The Core H20 has an amazing block technology and adjustable ground vent. Also, the instant tent has a gear loft with lantern hook and large wall organizer to keep items neat and off the tent floor so that the ground space does not decrease.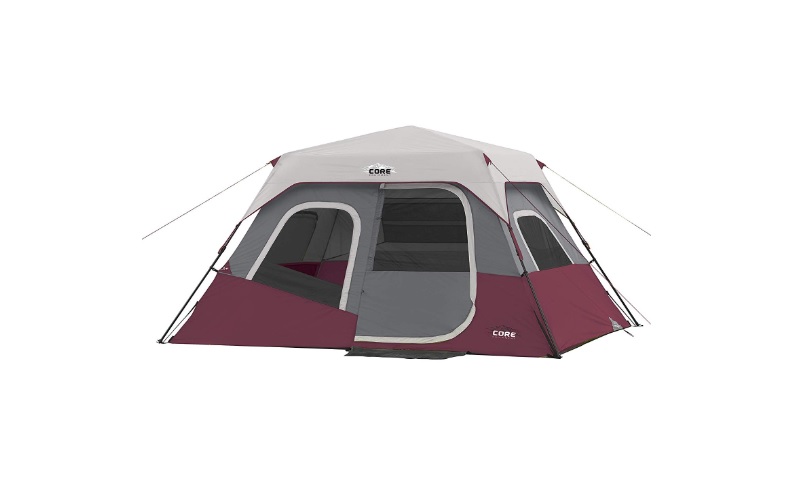 The weight of the tent is about 23.6 pounds and the dimensions are 11'x9'x72".
Furthermore, Core markets the product to be water resistant and also the package does include a rainfly. Other than that, tent stakes and carry bag are given which help the tent to set up in about 60 seconds.
For, proper ventilation, some vent flaps are provided on the sides for fresh air and has some zippers that facilitates the openings. 
Now, let us have a look at the Pros and the Cons of the products:
Light weight and easy to carry as it folds down in a bag that along with it.
The material used for it is highly durable.
Inexpensive.
Sets up in literally less than a minute.
Some customers have complained about the zippers being of low quality.
Our Verdict
So, this is a product that we personally recommend highly and it has got some amazing reviews on Amazon. So, if you are looking for a medium sized instant tent, this is what you can go for.

Buy Now From Amazon
Product #4: Coleman Cabin Tent with Instant Setup
Just 4 names in the list and 2 of them coming from Coleman already. So, this shows what kind of a brand it is and also that you can completely trust this one for a good hiking vacation. Coleman is known for making best instant tents.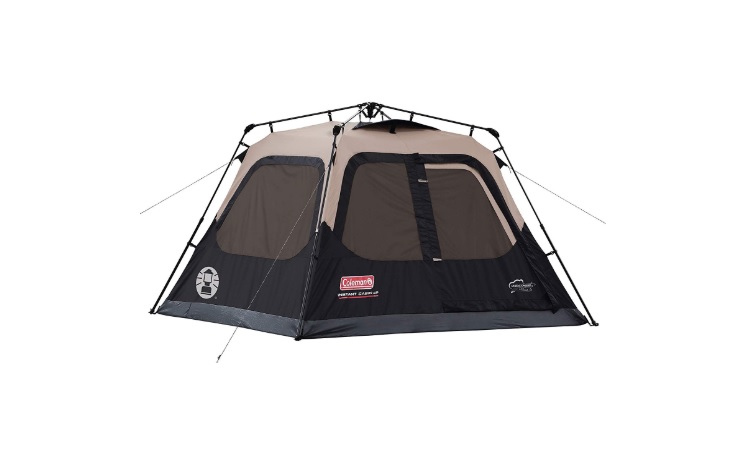 Coming back to the product, it is an instant tent marketed as spacious enough to fit in 4 people but for a comfortable stay and taking your gear and baggage into account, ideally it is meant for a couple. It has room for 1 queen airbed.
It is made up of 150D polyester taped seams which assures weatherproofing. It comes with a WeatherTec system with patented welded floors and inverted seams to keep you dry.
Also, these tents come with attached poles so there is no hassle of assembling and all. You just have to extend and they are ready to use.
Proper care has been taken for ventilation also as the rainfly which comes along with the tent improves and facilitates airflow.
Here are some of the Pros and the Cons of this product:
Made from rugged Polyguard double thick fabric which ensures reliability and durability.
Setup is easy and takes less than 60 seconds.
The material blocks about 90% of the sunlight and thus reduces the heat.
Easy to pack and carry.
Water leakage is the only issue that customers face.
Our Verdict
All in all, it is a good and strong instant tent if you are planning to go out camping with your better half and your kid.

Buy Now From Amazon
Product #5: LETHMIK BACKPACKING TENT
So, next up in the list, we have an instant automatic pop up tent from Lethmic which is good for 2 or at most 3 people.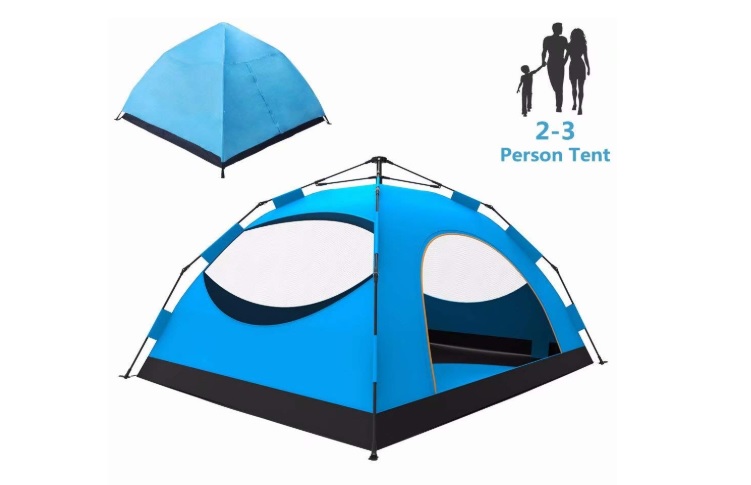 It is made from highly durable polyester material and the flooring is done with 190D Oxford fabric with fully taped seams that helps the tent to keep you dry in all climatic conditions.
Talking about the size of the tent after unfolded, its dimensions are about 78.7 x 78.7 x 55 inches and the package weighs about 8.38 lb.
The tent sets up in about 30 seconds and there is no hassle of assembling and mounting the tent. You just have to extend it and you are good to go. Also, it is a freestanding tent, so it is really easy to relocate.
The mesh walls of the tent take care of the ventilation inside and assures good sleep. Also, pockets have been provided on the walls so that you can keep things organized and the floor remains spacious.
Now, it is time to have a look at the Pros and the Cons of the product:
One of the best instant tents for novices as sets up in about 30 seconds without any mounting and all.
The polyester cloth and B3 Nylon airy mesh ensures durability and sound and comfortable stay.
Windproof ropes have been provided which ensures strength and safety.
Can be a perfect option for a solo traveller.
In some cases the poles were already broken.
Our Verdict
The final verdict about this tent would be that it is a nice and small tent which would be perfect if you are a couple or a small family of 3. Also, solo travellers can opt for this tent for an enjoyable stay.

Buy Now From Amazon
Product #6:QOMOTOP 4/6/10 PERSON INSTANT CABIN TENT
So, as the name justifies, this instant tent is available in 3 different varieties: for 4,6 and 10 people.
The telescopic poles on the outside of the tent allow you to install it in less than a minute. A single person can do it but ideally, two people should be doing it.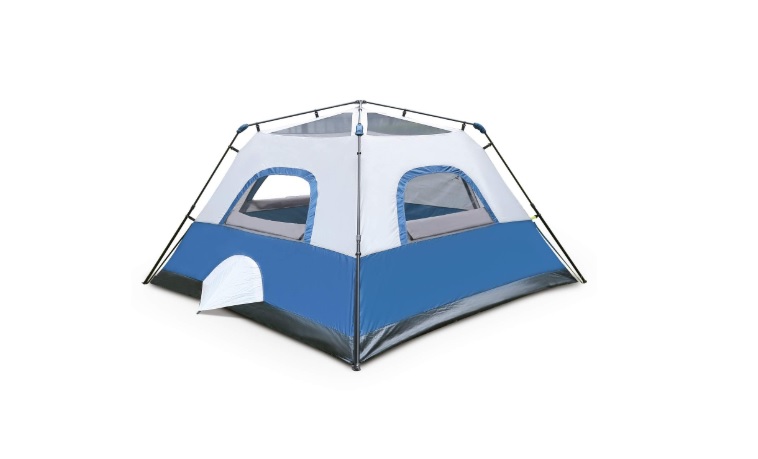 The size of the tent will of course differ and depends on the variety you select. For instance, the 4 Person instant cabin tent has measurements of 8×8 feet with 4-foot 11-inch height. Spacious interior with a large air bed and pockets for other camping gear has been provided.
It is one of best instant tents, as it comes with 3 windows that can be taken off with zippers which allow you to enjoy the scenic beauty of the place you are travelling to and also allows fresh air to flow inside.
The tent is waterproof because of the top rainfly that has been provided and PU taping at the joints of the tent prevents dust and rain from entering.
Let us now have a look at the Pros and the Cons of this instant tent:
Durable material used.
Electrical cords have been provided.
Very easy to pack and carry anywhere.
Highly cost effective.
No negative reviews found about this product by the customers who have already been using it.
Our Verdict
As you can see the advantages of the tent outnumbers the disadvantages and also there are some highly positive reviews on Amazon about this product which further encourages us to recommend you this product.

Buy Now From Amazon
Product #7:MOBIHOME 6 PERSON TENT

Next up, we have a 6-person instant tent from Mobihome whose measurements are 410cm x 210cm x 140cm. The central height of the tent is about 55 inches.
The setting up process is really simple and very quick. Just roll it out of the bag, lock the pre-attached poles, pull the drawstring and lastly quick up the tent. Done it is!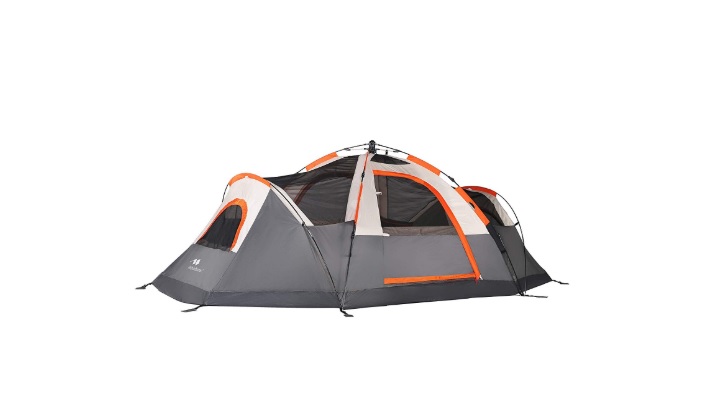 The material used here is a 190D polyester which is high quality cloth and ensures long lasting of the tent. Other than that, the rainfly and the PE tent floor makes the tent waterproof and also the mesh walls provide proper ventilation.
The fabrics used are water repellent and the seams are fully taped to block the heat to come inside.
There are zippers in every window and full care has been taken of your privacy.
This is an ideal tent for hiking, camping, trekking or any sort of holiday in nature.
Now it is time to have a look at the good and the bad parts of this instant tent:
Setting up is really easy.
It is versatile and suitable for 3 seasons.
Value for money as it is made of a long-lasting material.
Design is attractive.
No electrical cords have been provided inside the tent.
Our Verdict
so, according to us, it is a good option to go for if you are a couple and 2-3 children who are planning to go out for a vacation.

Buy Now From Amazon
Product #8:HEWOLF WATERPROOF INSTANT TENTS FOR CAMPING

On the 8th position of this coveted list of best instant tents, we have the Hewolf waterproof instant tent which accommodates 2-3 adults or 4 children. It is hexagon shaped and the central height being 5ft 5 inches.
The outer canopy is made up of breathable polyester and the inner walls are made of mesh material so proper care has been taken care of ventilation. But one thing should be kept in mind before buying it: This tent is not meant for usage on a heavy windy day.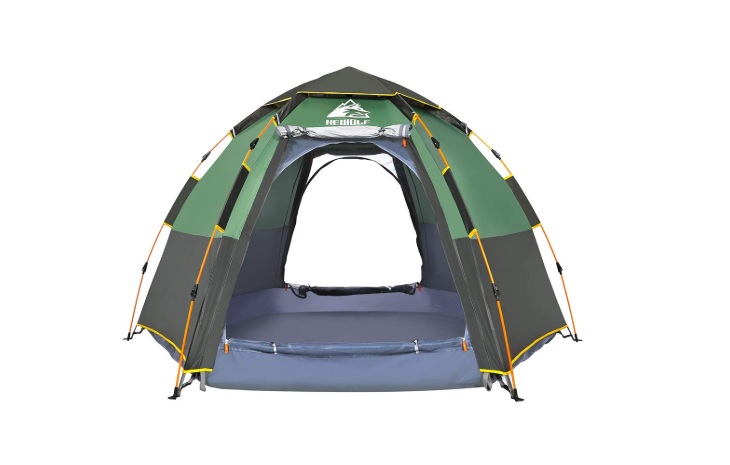 The double walled tent is constructed if a flysheet and inner mesh walls are removable do that they can be used as instant sun shelter which provides you protection from UV rays.
The best part is that Hewolf gives you a lifetime guarantee and free pole replacement in case of any damage.
The rainfly is made up of very strong material and is spread all across the tent to assure full waterproofing and protection against leakages.
Here is a list of some advantages and disadvantages of this instant tent:
Instant setup mechanism helps you to set up the tent easily.
Protection against UV rays.
Best tent available under $100.
Suitable for all weather.
It is not recommended to use on a very heavy windy day.
No electrical cords are present.
Our Verdict
This is a highly recommended instant tent from our side and it is the most cost-effective option available in the market right now.

Buy Now From Amazon
Product #9:CORE 11 PERSON FAMILY CABIN TENT

As the name would suggest, this amazing instant tent from Core is a big tent meant for family outings and fits as many as 11 people. The measurements of the tent are 11′ x 12′ x 86". The central height is about 86 inches and it easily fits 3 queen beds.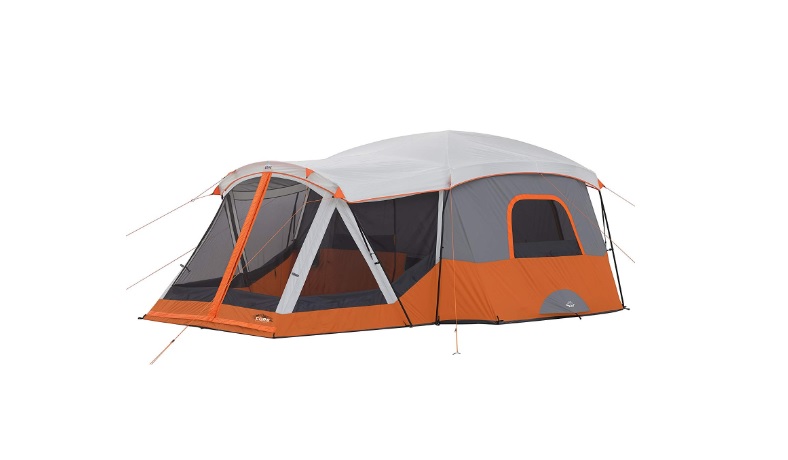 The tent features a front screen and windows that allows ventilation and light to come in. The Core H20 Block technology which uses water resistant fabrics and seams that are thermally heat sealed to prevent water from coming in and at the same time, it keeps the environment inside the tent cool.
You can also feed an extension or cable cord through the tent's electrical access port to supply power to your tent.
The tent easily rolls up and can be fit in the expandable carry bag after use. The bag is completely safe and is made of 210D polyester material.
Here are the pros and the cons of this instant tent:
Suitable for large family outings.
The screen room cools the main cabin.
The rooms can be separated through zippers for the privacy of the couples.
Very sleek and attractive designs.
Some customers had complaints regarding the rainfly being a little small.
Our Verdict
So, I guess this should be a go to option if you are planning to go for a hike with your family of 8-10 people or that many friends. It has got all the qualities that a decent instant tent should possess.

Buy Now From Amazon
Product #10: QOMOTOP CAMPING TENTS

So, the final product in this list of best instant tents is another product from Qomtop. Talking about the size, the dimensions are about 240cm x 240cm x 150cm. and the central height is 59 inches.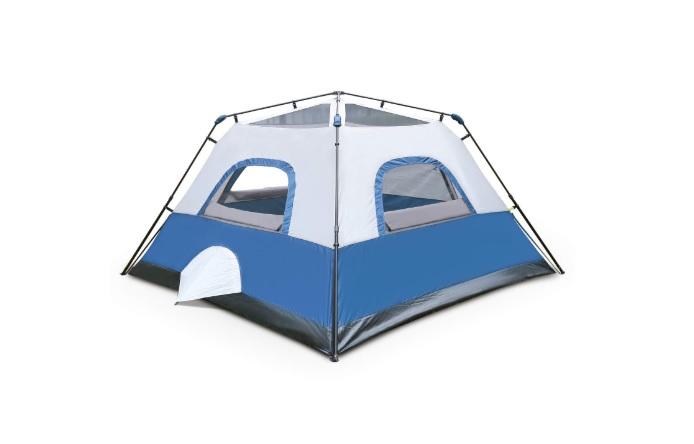 The tent accommodates up to 4 people and fits 1 queen air mattress. The instant mechanism design and the telescopic poles allows you to set up the tent in less than 60 seconds.
The tent is quite spacious and has side pockets to make your travel light and organized. Also, there are 3 windows on the sides to enjoy the beautiful scenery of the nature. Electrical access is also provided.
Now, coming to the exteriors, the rainfly protects the tent from rainfall as it is spread all across and attached to the poles.
The mesh roofs and the ground vents allow for proper ventilation. The windows are double layered and can be closed with zippers if needed to keep the mosquitoes out of the tent.
 Now, let us talk about the Pros and the Cons of this instant tent:
The material used is strong and durable.
Perfect for all weather.
Sets up in less than a minute.
Colour coding for a fly positioning system.
Zipper is not up to the mark and can be stuck sometimes.
Our Verdict
All in all, this is a really nice product if you are looking for a small sized rough and tough instant tent which is really cost effective.

Buy Now From Amazon
So, these were the top 10 instant tents available in the market right now. It is totally up to you to select which one is best for you. But if you are still confused about which one you should invest your money in, here is some information that you may find helpful.
Why Use Instant Tents?
I strongly believe that most of our holidays should be in a place where nature has the upper hand and dominates the man-made existence. Camping and hiking at such a place teach us so many things.
The scenic beauty and the life without many luxuries can be cherished by us but only for a short period of time. So, to make this trip worth it, avoid staying at hotels or lodges.
Trips like these can be enjoyed to the fullest if camping and hiking is done to explore nature. So, instant tents always play a huge role in both of them.
Also, unlike traditional tents, they do not require very heavy set up processes. They can be set up in a minute or so. Certain additional features like waterproofing and electrical cord access are also provided in the instant tents.  
Who Should Use Best Instant Tents?
Well, anyone who likes camping in their summer or spring holidays. With the kind of features they provide us with, instant tents are something we cannot afford to miss.
The size and the facilities of the tent may differ with the number of people you are travelling with and how much money you want to invest in the tent.
Also, most of the tents are weatherproof so they can be used in most of the seasons.
Solo travellers can also use instant tents as the pre-attached poles make setup very easy and a single person can also do it with utmost ease.
FAQs About Instant Tents (Must Read)
Q1: Which brand makes the best instant tent?
Brands like Coleman and Core are the most trusted ones and you can also go for Ozark tents.
Q2: What is a Rainfly?
Rainfly is like an umbrella of the tent as it is spread across it so as to prevent water from entering your tent. Of course, the bigger the rainfly, the better it is for your tent.
Q3: Are Instant tents durable?
Most of the instant tents are made from polyester material which promotes durability and the strength of the tent.
Q4: Is a 2-person tent perfect for a couple and a 2- year old child?
I would suggest that for a small family of 3, you should go for a 4-person tent so that there is enough space for your baggage and things are not too messy.
Conclusion
This is all what I suppose you need to know before buying the perfect instant tent for yourself. Make sure you check all the features beforehand and compare the prices before clicking that 'BUY' button. After having read the full article about best instant tents 2021, I am sure that you are going to make an informed decision. So, do not rush and do not overthink too. Just go for the one that sounds perfect for you.